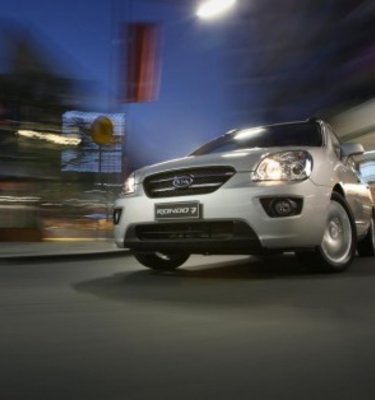 2008 Kia Rondo First Steer
2008 Kia Rondo First Steer & Review
- By David J Twomey
Kia has struggled a little in Australia of recent times with product that's a bit out of step with the market, or a bit dated, but with the new Rondo 7 its gone the other way, potentially developing a market segment that currently doesn't exist – the URV!
Kia says the "7" has been tacked onto the name to highlight the fact that it is a seven-seater, the new "urban recreational vehicle" that will take over from soft-roader SUVS.
"The Rondo 7 is a new approach to the crossover segment. No other vehicle has quite the same configuration of seats, doors and body style," said Mr SK Lee, President and CEO of Kia Motors Australia. "It combines the benefits of four conventional segments in one package - the Urban Recreation Vehicle."
He says, Rondo's high ride height, good visibility, functionality and adaptability deliver that sense of being 'above the traffic' that many drivers find so appealing in SUVs, without having to resort to the expense of buying and running an SUV.
Its individual looks and style, a compact and manoeuvrable body shape, good fuel efficiency and safety equipment package echo many of the features of the hatchbacks.
When the Rondo 7 enters Kia showrooms in late April 2008, it will be available in three grades - LX with either manual or auto transmission, EX with auto only and EX Limited also with auto only.
"Kia has always been a brand that strives to give owners a little bit more, but always with outstanding value. At an entry price of just $24,990 for the LX manual, the new Rondo 7 is the best priced 7-seat vehicle in Australia," said Mr Lee.
Kia Product Planning Manager Nick Reid says the Rondo doesn't really have a direct competitor in the Australian market but will be sold against a range of products that do some of the roles the Rondo can fullfill, including Mazda3 hatchback, the VW Caddy Life small people mover and even urban soft-roaders such as the related Hyundai Tucson City.
The Rondo is built on a modified platform from the Kia Magentis mid-size sedan and uses a 2.0-litre version of the Magentis' four-cylinder petrol engine.
The twin-cam, four-cylinder 2.0-litre 'Theta' petrol engine, with continuously variable valve timing (CVVT), produces 106 kilowatts of power @ 6,000rpm and 189 Newton metres of torque @ 4,250rpm.
Combined fuel consumption is 8.4 litres/100kms (official ADR81/01 combined cycle).
Unfortunately I'd have to say Kia has missed the mark with this car by not introducing it from the start with the excellent 2.0-litre diesel engine that comes in the Rondo in Europe.
This engine, and I've driven the Rondo in Europe, produces 103kw and a massive 395Nm of torque, which coupled to the five speed manual gearbox or the four-speed automatic means that the Rondo has no shortage of power to haul a full load of seven passengers and luggage.
The same cannot quite be said of the petrol powered Rondo that we will be getting. It does a good job but you cannot help but feel that with a full load it will be struggling a little.
Rondo feels well planted on the road, although it comes with some of the body-roll that is to be expected of a tall vehicle.
And it is tall, there's no problem with head clearance for even the tallest of drivers or passengers, another advantage of the height is that the second row passengers can be seated higher than the front, meaning that children, and let's face it this car is aimed directly at families, get a much better view of the passing scenery.
Interior space is good and while a 190cm tall person such as me wouldn't want to spend a long time in the third row seats, it is entirely possible to carry adults on an urban trip in all seven seat positions.
The big plus with the third row is that families will have somewhere to carry those young friends who suddenly materialise whenever there's a trip to be made with the kids!
At the front, the Rondo 7 uses a McPherson strut layout mounted on the same sub-frame that supports the drivetrain, and is designed to provide optimum stability and ride comfort with good steering response.
At the rear, the new Rondo 7 maximises third row space by employing a compact transverse sub-frame to support a rear multi-link system with twin upper arms and long lower trailing arms, and separate coil springs and dampers.
The system is so tightly engineered (a significant percentage of the components are mounted within, or very close to, the interior space of the road wheels) that it has been called 'in-wheel' multi-link.
The rear suspension also incorporates stroke-dependent shock absorbers, which vary rear damping dependent on vehicle weight to deliver customised shock absorption.
Taking advantage of its rigid structure and balanced suspension layout, the new Rondo 7 minimises body roll, reduces tyre-generated road noise and ensures negligible noise intrusion into the passenger or luggage compartments.
The steering is a hydraulically powered rack and pinion system with 2.86 turns from lock-to-lock (15" wheels) for a tight turning circle of 10.8 metres. It makes parking a breeze, enhances inner-city manoeuvrability, and allows quick and precise response and good feedback on country roads without being overly sensitive for freeway driving.
Rondo 7 is equipped as standard with dual SRS front airbags; 4-wheel disc brakes with ABS (Anti-lock Braking System) and EBD (Electronic Brake force Distribution); ESP (Electronic Stability Program) and TCS (Traction Control System).
Rondo EX Limited is also equipped with side front SRS airbags and full-length curtain SRS airbags as standard.
From a pricing point of view the starting point is the Rondo 7 LX model at $24,990 plus on-road costs for the five-speed manual or $26,990 plus on-road costs for the four-speed automatic.
The Rondo 7 EX is available only with four-speed automatic transmission at $28,990 plus on-road costs, while the range-topping Rondo 7 EX Limited also comes only with four-speed automatic for $31,990 plus on-road costs.
The Rondo is just the start of a product revival for Kia, which wants to make itself more youthful, and no doubt more relevant to the Australian market, it also wants to claw back the sales it has lost in the past couple of years to brands that have hit the market 'sweet spot' a little better than it has, the Rondo could just be the thing to start that move.
2008 Kia Rondo First Steer