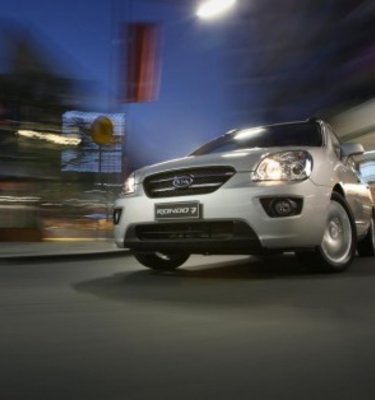 2008 Kia Rondo First Steer
2008 Kia Rondo First Steer & Review
Kia has struggled a little in Australia of recent times with product that's a bit out of step with the market, or a bit dated, but with the new Rondo 7 its gone the other way, potentially developing a market segment that currently doesn't exist – the URV!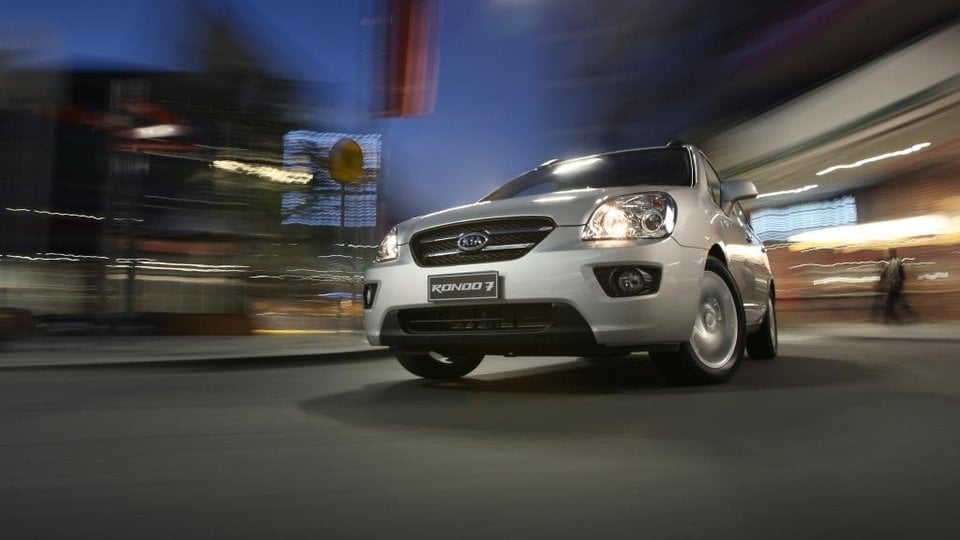 When the Rondo 7 enters Kia showrooms in late April 2008, it will be available in three grades - LX with either manual or auto transmission, EX with auto only and EX Limited also with auto only.
"Kia has always been a brand that strives to give owners a little bit more, but always with outstanding value. At an entry price of just $24,990 for the LX manual, the new Rondo 7 is the best priced 7-seat vehicle in Australia," said Mr Lee.
Kia Product Planning Manager Nick Reid says the Rondo doesn't really have a direct competitor in the Australian market but will be sold against a range of products that do some of the roles the Rondo can fullfill, including Mazda3 hatchback, the VW Caddy Life small people mover and even urban soft-roaders such as the related Hyundai Tucson City.
The twin-cam, four-cylinder 2.0-litre 'Theta' petrol engine, with continuously variable valve timing (CVVT), produces 106 kilowatts of power @ 6,000rpm and 189 Newton metres of torque @ 4,250rpm.
Unfortunately I'd have to say Kia has missed the mark with this car by not introducing it from the start with the excellent 2.0-litre diesel engine that comes in the Rondo in Europe.
This engine, and I've driven the Rondo in Europe, produces 103kw and a massive 395Nm of torque, which coupled to the five speed manual gearbox or the four-speed automatic means that the Rondo has no shortage of power to haul a full load of seven passengers and luggage.
Rondo feels well planted on the road, although it comes with some of the body-roll that is to be expected of a tall vehicle.
At the front, the Rondo 7 uses a McPherson strut layout mounted on the same sub-frame that supports the drivetrain, and is designed to provide optimum stability and ride comfort with good steering response.
The system is so tightly engineered (a significant percentage of the components are mounted within, or very close to, the interior space of the road wheels) that it has been called 'in-wheel' multi-link.
Taking advantage of its rigid structure and balanced suspension layout, the new Rondo 7 minimises body roll, reduces tyre-generated road noise and ensures negligible noise intrusion into the passenger or luggage compartments.
Rondo 7 is equipped as standard with dual SRS front airbags; 4-wheel disc brakes with ABS (Anti-lock Braking System) and EBD (Electronic Brake force Distribution); ESP (Electronic Stability Program) and TCS (Traction Control System).
From a pricing point of view the starting point is the Rondo 7 LX model at $24,990 plus on-road costs for the five-speed manual or $26,990 plus on-road costs for the four-speed automatic.
The Rondo 7 EX is available only with four-speed automatic transmission at $28,990 plus on-road costs, while the range-topping Rondo 7 EX Limited also comes only with four-speed automatic for $31,990 plus on-road costs.