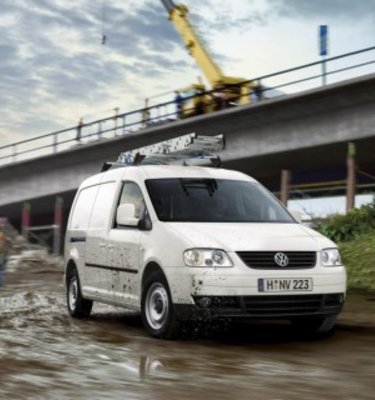 2008 Volkswagen Caddy Maxi Van Review
2008 Volkswagen Caddy Maxi Van First Steer & Review
- By David J Twomey
With the Australian car market more crowded than almost anywhere in the world, the latest game for car makers seems to be re-inventing market segments, the latest to do so is Volkswagen with the Caddy Maxi, which apparently re-invents the small van segment.
The VW Caddy Maxi is a stretch version of the market segment leading Caddy small van, which the German manufacturer says is aimed at "tradesmen, courier services and service providers requiring a very high load capacity in a compact van".
Compared to the regular Caddy, the Maxi has been stretched from 4.41 metres to 4.88 metres by adding 320mm to the existing model's wheelbase of 2682mm and extending the rear overhang by 150mm.
This has created an extremely spacious vehicle with up to 4200 litres, up from 3200 litres, of stowage volume, and makes the Caddy Maxi one of the largest models among the compact vans and small transporters available.
With a load capacity of up to 4.2 m3, an 810-kilogram payload, up to 1500-kilogram trailer load and load area up to 2250 millimetres long, depending on the interior configuration – these are all record figures in this segment.
There are three powertrain combinations on offer; a 75kw/148Nm 1.6-litre petrol engine with a five-speed manual gearbox, and a 1.9-litre turbo diesel engine with either the five-speed manual or VW's unique six-speed DSG, manual/auto gearbox.
Pages: 1 2
Most frugal of all is the manual TDI, which returns an official combined ADR, figure of just 6.1L/100km and as CarAdvice has already spent a few days at the wheel of the Caddy Maxi we can confirm that figure is entirely achievable.
Of course load the van to its maximum and the figure will rise, but should still provide any commercial operator with a very sound financial argument for going diesel.
The TDI also gets a few more goodies than the petrol, for some reason that cannot really be explained cruise control is standard on the diesel but an option or the petrol, at a cost of $495.
Among the standard equipment are dual sliding doors, driver and front passenger airbags, semi automatic 'Climatic' air conditioning, height adjustable driver and front passenger seats and heat reflective glass.
Caddy Maxi comes with ABS braking, plus traction control and engine braking control (EBC) as standard, while electronic stability program (ESP) is offered as a $650 option, which also comes with a brake assist system and trailer stabilisation (when chosen with a tow hitch).
VW says a major factor in the great success of the Caddy is its functional and comfortable design. For this reason, the interior concept has been passed on, unchanged into the Caddy Maxi.
Driving the Caddy Maxi in its natural environment, that's around the city on freeways and even into an industrial area to load it up with cargo shows that it is a vehicle that works well.
The dual sliding doors mean access in a loading area is not restricted to one, possibly dangerous side, and the rear barn doors, which can be exchanged at no cost for a tailgate, open to 180 degrees, allowing the rear cargo space to accept a full Australian pallet.
This may not mean much to many but European pallets are a smaller size to Australia pallets and it's often the case that Euro LCVs won't accept the more substantial "aussie" item.
Driving the Caddy Maxi, like the regular Caddy, is a very car like experience; sure the rearward visibility is limited but the underpinnings and pretty much everything from the A-pillar forward is straight from the Golf.
In fact, looking forward, I had to keep reminding myself that there was a bit more behind me than your average Golf hatchback!
Caddy Maxi pricing:
1.6-litre petrol (five-speed manual) - $24,740
1.9-litre turbo diesel (five-speed manual) - $28,740
1.9-litre turbo diesel (six-speed DSG) - $31,740
2008 Volkswagen Caddy Maxi Van Review