While Ferrari, Lamborghini and Aston Martin have for long shared the prestigious title of the 'ultimate supercar manufacturers', Toyota's luxury arm - Lexus - is on a quest to show the world, that it to can make a proper supercar.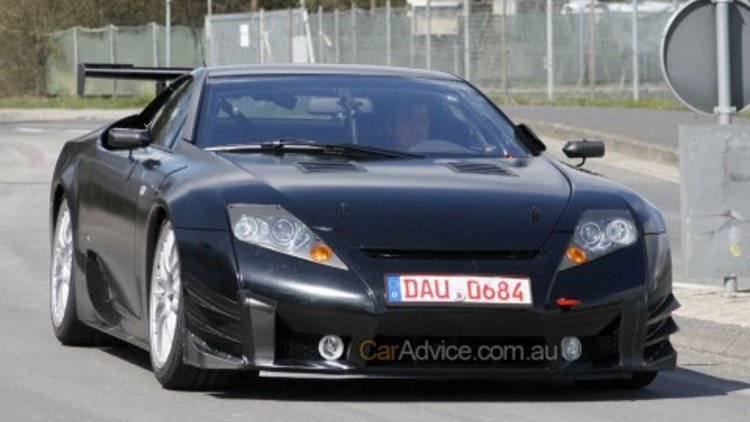 Japanese rival Nissan has already proven with its GT-R that you don't need a $500,000 budget to lap the Nürburgring faster than today's best supercars, but now it's Lexus' turn.
Our sources tell us that Lexus is going to use the legendary 24-hours race at the Nürburgring in May to officially show the all-new LF-A to the public for the very first time.
However it won't be the production variant, but this angry race-prepared LF-A variant. Caught by our European photographers yesterday, the ultimate Lexus doesn't seem to share many design ideas with the current range. Not that it needs to.
Equipped with a massive aerodynamics kit including front flaps, smaller mirrors, a dramatic rear wing to ensure downforce plus an additional fuel filler right behind the passenger's side window, the LF-A might just surprise us all in May (it may also fail miserably against the strong competition).
The production version is expected to sport a V10 engine with around 400kW of power, but it's uncertain which engine Lexus is using to power the race variant and how much power it produces.
The LF-A will the be Halo car for Lexus as it tries to bring performance to its brand. Lexus will shorly launch the IS-F in Australia plus many other 'F' models.
Honda is also working on the next-generation NSX to compete with its Japanese rivals.
Lexus LF-A Race Version Spy Photos