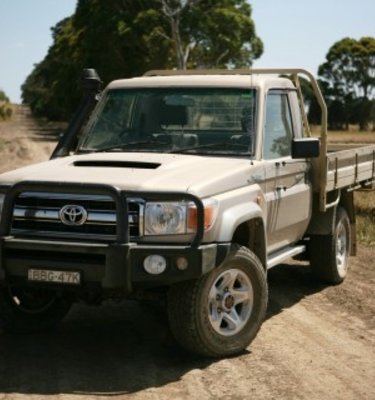 2008 Toyota Landcruiser 70-series Cab Chassis GXL review
Current Pricing Not Available
2008 Toyota Landcruiser 70-series Cab Chassis GXL Road Test
Recommended Retail Price: $56,990.
Options fitted: Toyota tray body, bullbar.

Rugged abilities, air conditioning, torque.
Agricultural, no cruise control, manual locking hubs.
CarAdvice rating: (3.75)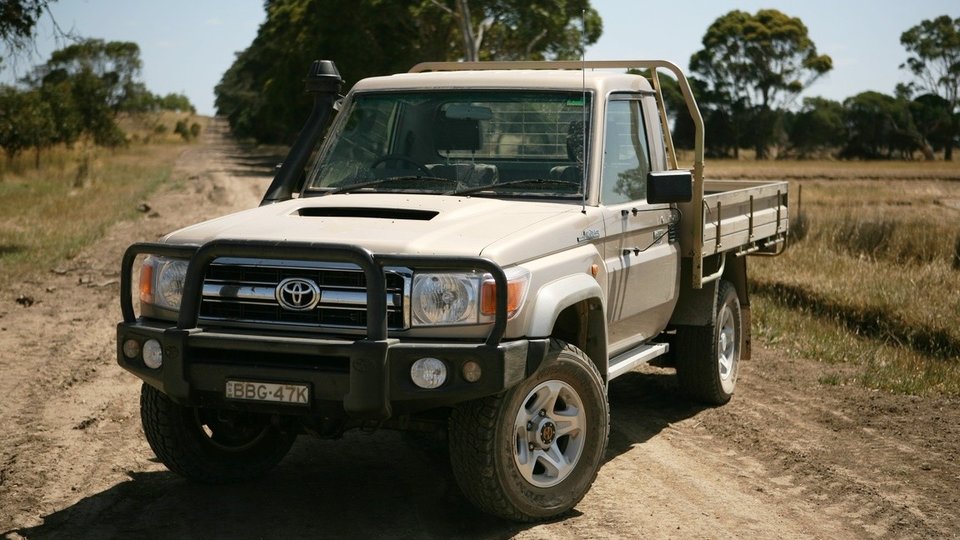 - Photographs and review by Paul Maric
Subtle exterior styling changes, along with an all new engine and CD player (with MP3 compatibility) headline the 70 Series changes. Replacing the six-cylinder diesel engine is Toyota's all new 4.5-litre turbocharged V8 diesel motor. Producing 151kW and a mega 430Nm of torque (from just 1200RPM), the new 70 Series is has about 23% more power than its predecessor and around 13% more torque.

The test vehicle was fitted with optional air-conditioning and a bulbar. The air conditioning begins blowing cold air in a matter of 1.5-seconds – literally! During testing on a very hot day, the air conditioning pumped out cool air all day long, despite the immense external heat.

Sink the boot in any gear and the turbocharged V8 begins pulling relentlessly. Each gear provides effortless torque, and with a springy and fluid clutch, driving this monster is an easy task. A 5-speed manual transmission controls the shifts, though it felt like it could have easily done with a sixth gear for highway driving.
Joined by three motorbikes, we hit the bush to see if the 70 Series Landcruiser could handle the rough terrain we planned on throwing at it. After engaging 4H (four-wheel-drive high) the 'cruiser climbed a devilishly steep incline in second gear with no dramas. Steeper terrain was tackled with 4L (four-wheel-drive low) with the gearbox in low range. Automatically locking hubs are a non-feature, so jumping out and manually locking the hubs is a must when becoming seriously stuck.
It performed extremely well off-road and didn't feel limited by any terrain thrown at it – even the hairiest of rock climbs.

The test vehicle measured a fuel consumption of 11.9-litres/100km, just outside the official figure.
Priced from $50k+, the new 70 Series Landcruiser doesn't come cheap when you consider the lack of features. But, if you take into consideration the fact that this thing will never break down and the fact that it can easily tow 3500kg, along with 1500kg in the tray, it makes perfect sense for the rugged bushman who thinks looks come second to ability.

CarAdvice overall rating:
How does it drive:
How does it look:
How does it go:
Engine: 4.5-litre
Power: 151kW
Torque: 430Nm
Top speed: N/A
Safety: Front seatbelt pre-tensioners and load limiters.
0-100km/h: N/A
EuroNCAP rating: N/A
Turning circle: 14.4m
Fuel tank: 180 litres
Fuel consumption : 11.5-litres/100km
Fuel type: Diesel