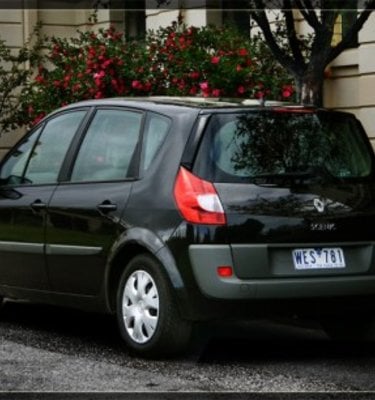 2008 Renault Scenic Expression Review
2008 Renault Scenic Expression dCi Review & Road Test
Incredibly versatile, remarkably innovative and supremely practical.
Model Tested:
2008 Renault Scenic Expression dCi Phase II 1.9 litre turbo diesel automatic five door hatch - $37,990 (RRP)
Options:
Metallic Paint $700 (Fitted - Pearl Black); iPod Connector $529; Bluetooth Connectivity $990; Rear Parking Sensors $897; 16" Alloy Wheels $1,290; Panoramic Electric Sunroof $2,000
Innovative & Flexible Interior, Good Fuel Economy, Safe Family Motoring
Vague Steering Feel, Average Four-Speed Auto, Coarse Engine Too Slow Down Low
CarAdvice Rating:
- by Matt Brogan
Take a family vacation to Europe and you're pretty much guaranteed one thing - the car rental company will hand you the keys to a Scenic - it's one of those unwritten rules.
Scenics are prevalent through out the EU, as popular as that blonde from high school with the big, umm... personality, but why is it so? Well it's because the Europeans have caught on to an idea we seem to have lost in the 80s which is that a convenient and practical family vehicle doesn't necessarily have to equal owning a cumbersome SUV.
There's good reason for this. European registration, insurance and fuel costs are frightening in comparison to ours, and space (especially for parking) is a lot more limited, so getting the most from your family car isn't all about keeping up appearances. It's about being sensible, practical and responsible in terms of your budget. This is where the Scenic excels.
The dCi (diesel) variant is new to the Scenic line-up and whilst visually it may strike a love-hate relationship with your mates, one of those you like it or you don't type of deals, in all it's a pretty neat package encompassing some great ingenuity and clever Ikea-esque thinking.
To me at least Scenic looks like a Megane (which it is based upon) after a course of steroids, or that lanky kid who grew too quick, but what it is in reality is a car that has been built from the inside out, foregoing some of it's beauty to make for an incredibly versatile, remarkably innovative and supremely practical family vehicle.
It's a smooth and rather quiet ride, the seating is comfortable and furthermore it can be rearranged in seemingly endless combinations to suit just about any formation you should require. Both front and rear seats slide fore and aft, and the outboard rear seats can also slide slightly inboard (with the centre seat removed) to make things a little more roomy if you're only carrying four passengers.
The driving position too has been given a great deal of thought. Visibility is excellent all round and entry and egress has never been easier with the (adjustable) seat height perfectly matched to an adult's hip.
There's a convex flip down mirror for keeping an eye on the kids, retractable (rear door) mesh sun blinds, cruise control with speed limiter, single zone climate control air-conditioning, auto headlights, rain sensing wipers, one touch power windows and power mirrors.
The centrally mounted instrument panel, which is both practical and rather funky, does feel as though it may be aimed at the passenger seat in a remaining effort from Scenic's left hand drive birth, as have the windscreen wipers (notice the vertical side finishes in front of the passenger). I'm also not a fan of the horrid plastic steering wheel.
Two more quirky French innovations to make life easier are the RenaultCard "key" and the hands-free or capless refuelling port. The key, which is a credit card sized cassette, operates door and boot locks, power windows and the push button ignition.
It's a great idea and fits well in your pocket or purse. The capless refuelling system consists of a stiffly sprung stainless steel valve and large rubber grommet which have eliminated the need for a screw type cap.
Audio comes compliments of a single CD, AM/FM unit with satellite steering wheel controls. Whilst it is relatively easy to use, and does a reasonable job, it is a bit of a let down in terms of sound quality and clarity at volume. A shame when everything else is done so well. To add insult to injury an iPod connector is going to set you back over $500!
All rear seats can be removed individually or folded down, the four outboard seats have drawers under them, and the outboard rear seats have aircraft style fold down tray tables in front of them for kids colouring books and the likes, which incidentally you can download from the Renault website - for free!
But wait there's more, for Scenic is the master of cubby holes and storage spaces. The sliding centre console which moves forward to allow more leg room for the rear middle seat passenger has a cavernous fifteen litre storage bin featuring courtesy lights, a neat sliding cover, movable armrests, twin cup holders (removable) and an internal 12V outlet so you can leave your phone on charge away from prying eyes.
Then of course there's your large glove box, four in-floor concealed 'valuables hide away' compartments, dash and door pockets, and a decent sized cargo area with side box, tie down points and rigid over-cover.
There's not too many vehicles I can think of with this level of versatility and thought for clever and convenient stowage of your stuff, though the tail gate (especially the latch) doesn't allow much head room, and I'm 5'8"! If the internal storage room isn't enough, you can also option roof racks and a 1,000kg (braked) tow pack!
Now all of this is well and good, but there's little point in being able to fill a car with all manner of items if it's not going to move. Fortunately the 1.9-litre turbo diesel will cope with most situations easily. Developing a modest 96kW the four-cylinder oiler's true saving grace is the 250Nm of torque on offer.
Although you're not likely to win any races, the Scenic's performance is quite adequate for its intended role and is a capable cruiser with the fuel economy of a small hatch back. ADR tests claim 7.1L / 100km (combined average) though my week with the Scenic saw slightly heavier usage at 8.0L.
Perhaps sadly, the diesel is quite slow to get off the mark, no thanks to the outdated Pro-Active four speed automatic. The gearbox really lets the car down and despite the offer of manual mode, really needs a couple more cogs to keep things moving more fluidly. Maybe we'll get the lovely six-speeder from the petrol model sometime soon.
The speed proportional power steering is reasonably quick to respond at car park speeds but unlike the Megane seems to lack any real feel at speed. It's not terrible, but by the same token is far from perfect.
The suspension carries lateral loading quite well and although there's a little body roll (as you'd probably expect), the handling is manageable, compliant, and provides little in the way of losing its personality when fully loaded - something not too many people movers can attest to. You will however notice a little understeer and the vehicle is susceptible to cross-winds at highway speeds.
Braking is strong, and loaded with electronic kit (Bosch 8.0) to keep things safe, but to me the pedal feel lacks uniformity and seems to present itself differently at each application. Nonetheless Scenic stops with little fuss and I'd dare say will out-brake most rivals.
On the safety front all you really need to know is that it's a Renault. That should mean enough, but in case it doesn't then let me fill you in. Renault has more five-star NCAP cars in their showroom than any other manufacturer, and of course the Scenic is one of them.
The third generation System for Restraint and Protection (SRP III) is an energy absorbing survival cell constructed to protect occupants regardless of their seating position by preventing the intrusion of mechanical or body components in to the cabin.
Seat Belt Pretensioners with Load Limiters (and ISOFIX Preparation for booster seats and capsules) and adjustable head restraints all help keep you safe in your seat where the cabin's smart design can do its best to protect you should something nasty happen.
To make things better again, you also get an Automatic Park Brake, Front, Side and Curtain Air Bags, and ABS with Electronic Brake Force Distribution and Emergency Brake Assist (which also activates the hazard lights under extremely heavy braking maneuvers).
ESP featuring understeer control is standard and also comes with traction control and engine torque overrun regulation which stops the driven wheels from locking when throttle pressure is released when slowing on wet roads.
When all is said and done the Scenic is a terrific, versatile and immensely practical car let down by some dated mechanicals. If the steering was a little sharper and the auto box could better manage the engine down low (and was a little more flexible on the hop) the Scenic dCi would be an ideal family car, but until the drive matches the brilliant interior I would have to recommend sticking with the petrol.
CarAdvice overall rating: How does it drive: How does it look: How does it go:
Engine: 1870cc four-cylinder OHC common rail eight valve turbo diesel
Power: 96kW @ 4,250rpm
Torque: 250Nm @ 1,600rpm
Driven Wheels: Front
Top Speed: 190km/h
0-100km/h: 11.3 seconds
Safety: ABS; BA; EBD; ESP; TCS; Front, Side & Curtain Airbags
ANCAP Rating: Five Star
Turning Circle: 10.7 metres
Fuel Tank Capacity: 60 litres
Fuel Consumption : 7.1 litres / 100km (ADR combined average)
Fuel Type: Diesel
Wheels: Steel 16" x 6.5" (with full size spare)
Weight: 1,438kg (Tare)
Towing Capacity: 1,000kg (Braked)
Warranty: 3 years / 100,000kms
2008 Renault Scenic Expression Review