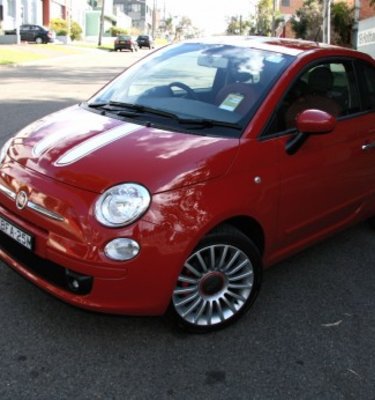 2008 FIAT 500 Review & Road Test
"It gets more looks than a Ferrari F430 and costs but a fraction of the price. The Fiat 500, may just be the coolest car on the planet right now"
Model driven: Sport Hatchback 3dr Manual six-speed 1.4 Litre petrol
Recommended Retail Price: $26,990
CarAdvice Rating:
By: Anthony Crawford
You all know Luigi right? He's the cute little yellow car, which just happens to be a 1957 Fiat Nouva 500 in the 2006 hit movie, CARS.
If you've got the DVD in your home collection, you'll also know that Luigi runs "Casa Della Tyres" and loves Ferrari more than Luca di Montezemolo.
Back in 1957, the "500" were marketed as the perfect car to deal with Italy's congestion and tight parking spaces, common in their overcrowded cites. Powered by a tiny 479cc air-cooled (13 bhp), two-cylinder engine, it was also a world champion when it came to fuel consumption.
The new retro-style car is just as infectious but with way more cachet than the original model. Never before, have we at Car Advice, been so keen to get behind the wheel of a 1.4-litre naturally aspirated shoebox.
Most buyers won't even need to test drive the 500, as that may push them back a place or two, in the dealers order book. This car is the automotive definition of cute, and that's probably why you'll put down $26,990 (recommended retail) for the "Sport" model.
But if you're a little short of the dough ray me, then go ahead and drive away in the 1.2-litre baby for just $22,990. Just don't expect to get anywhere fast. The 0-100km/h sprint, if you can call it that, will take a full 12.5 seconds.
The trade off though, is that you should get close to 4.3L/100kms on the highway, which is downright exciting when you see punters queuing up for fuel at $1.50/litre.
While the 1.4-litre goes well, and we'll get to that shortly, we can't wait for a steer in the 1.3-litre JTD diesel. At $25,990, that's a grand less than the 1.4-litre Sport, you may never need to visit a petrol station again. Ever. That's not quite true, but with the oil burning 500, you can be confident of achieving a mind-blowing 3.6L/100kms! And your 0-100km/h time is an acceptable 11.5 seconds.
The Fiat 500 looks brilliant. That's unanimous worldwide. It's already won the 2008 Car of the Year from a jury of European journalists and anyone that doesn't think this car will sell like hotcakes, should be immediately drip-fed.
The "500" brochures look more like a prospectus for that "Accessorize" chain of shops, with loads of exterior/interior possibilities. You get to choose from up to eleven exterior paint jobs and thirteen upholstery/interior combinations, and they all look good enough to eat!
Our car was painted in a "Special Pastel" Fiat call "Pasodoble Red" and further optioned with a set of cool looking white "Twin Roof & Bonnet Stripes" which set the car off perfectly.
The Bossa Nova White with the "Italia" side strips looked particularly good, but whichever colour you choose, it's a $750 option for the paint job only. It's not a lot, but you don't have a choice in the matter.
The side stripes or any of the other seventeen customised sticker sets for the 500, will set you back just $450 unless you opt for the chequered roof (and I wouldn't) which adds another $650 to the price.
Colour matching is what the Fiat 500 is all about. Depending on what variant you go for, the interior colour book provides up to thirteen fabric colour combinations.
The seats in our 500 were covered in sumptuous red leather with matching red armrests on the door trim. Headrests were stylish, black, and circular in shape but the colour of these changes with the different combos. Like most things in and on the 500, they're optional. But the prices are more than acceptable.
The red leather interior across all 500 variants is only $1,450 and the 16" "Funky Alloys" on our Sport certainly looked the part, especially with the 'oh so cool' red walled, black wheel hub caps. They're shod with some very gripy Continental 195/45 rubber, which again, aren't expensive at a modest $950 a set, that's wheels and tyres.
Even the lower half of the dashboard was finished in a stunning gloss red look, matching the exterior paint perfectly.
The Sport comes with a host of standard kit creature comforts too. Air conditioning (manual operation but its simple to use), Power windows with one touch down up and down on the driver's side, and one way for the passenger. Sports instrumentation, Sports leather steering wheel and gear knob, Bluetooth and USB media port is a godsend, so that you can access your MP3 play lists via the 6-speaker MP3 compatible CD player steering wheel mounted controls. There's a real quality to the fit and finish in and out of the 500.
There's plenty of height and leg room up front, even for six-foot giants, but don't expect to get too comfy down the back, leg room is kid size only!
Open the rear hatch though, and you'll find a tonne of space given the depth of the boot area. Seats are 50/50 split fold and there were no problems with a 6'3" surfboard.
From an exterior point of view, you get privacy glass on all three-rear windows, rear roof-mounted spoiler in addition to chrome doorsills and exhaust tip.
Oh, and you'll love key fob which is available in nine different coloured key covers matching various body colours or the stickers.
You honestly don't expect too much from a 1.4-litre engine with 74kW and 131Nm of torque, unless you strap on both a turbo charger and supercharger as Volkswagen have successfully done with their Golf 1.4 TSI GT Sport.
While acceleration won't set the world on fire as you move off the line at the site of a green light, I wouldn't say the Fiat 500 Sport is slow either. It's a comfortable pace, as long as you bury the right pedal and keep it there until you shift into third gear, and then the car takes on a rather sporty character. It even sounds good.
Mid-range acceleration is better than I expected and if you were to push on, you would hit your top speed of 182km/h.
But Fiat has spiced up this model with a small round button on the dash, which, simply says, "Sport". Hit that once, and you'll get a slightly quicker response time when accelerating together with a heavier weighted steering or less power assist. Either way, it inspires a more spirited driving experience all round.
For such a small car, its nice to end up with six-speeds on the floor. Make that, six effortless and very quick gearshifts. It's an absolute joy to drive. And stop panicking about stop start driving in peak hour, if you live in hilly terrain. The 500 has Hill Holder too, which I first experienced in the new WRX. The moment you take your foot off the clutch, the car holds still and doesn't roll back, allowing you to get on the accelerator and gently move off!
Why this feature isn't standard kit on all manual cars is a complete mystery. More people would opt for the cheaper manual variant more often, no question.
Fiat also needs to be commended for the front seat design. They are some of the most comfortable seats I have ever sat in, and can accommodate most body shapes. Not what you expect in a car of this size.
Two other things surprised me with this car. Cornering dynamics would be categorised as sports car like, although the trade off is, at least on the sport model we drove, the ride can be a fraction harsh on poor road surfaces. And while there's slight body roll on turn in, the car goes into bends with reasonable confidence.
What was even more interesting was the ride height of the Fiat 500. A guy in a late model Falcon station wagon, pulled up beside me and as I looked across at the car, I noticed I was sitting a full 15cm plus above him. The end result is that for a small car, the forward vision is excellent and would mirror some of the compact SUV's on the market.
Safety on board this little Fiat is five-star all the way. In fact, this Supermini has already received the full 5-star rating by Euro NCAP for occupant safety, and three stars for child occupant protection. That's a standout result given the size of the car.
The level of safety systems across most of the 500 range is no surprise given the above ratings. Inventory includes; ABS with EBD, Dual Stage Driver Passenger Airbags, Side Airbags, Window Airbags, Diver's knee Airbag, Stability and Traction Control, HBA and Hill Holder round out the A-list.
"The Fiat 500 will do for Fiat S.p.A what the iPod did for Apple"