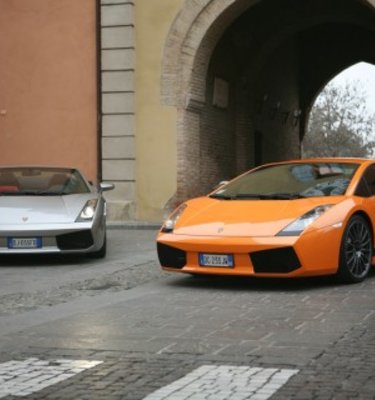 2008 Lamborghini Gallardo Superleggera & Spyder Review
2008 Lamborghini Gallardo Superleggera & Spyder Review (Road Test)
Models tested: 2008 Lamborghini Gallardo Superleggera & Spyder
Looks to die for, Italian soul & passion, German engineering, incredible noise.
Which one to pick?
CarAdvice rating:
- by: Alborz Fallah & Paul Maric
Alborz
Having left Bugatti in France, I was under the impression that my life was pretty much complete. Sure there is still Formula 1 cars and hell maybe I can even try my luck in a MiG fighter jet one day, but it was pretty much downhill from here on.
On the flight from Strasburg to Bologna, all I could think about was how I was going explain to the beautiful people at Lamborghini that yes, the Superleggera is fast, but its just not THAT fast.
Nothing was going to excite me any more, I was going to turn into an bitter old man that would be disappointed with pretty much anything that wasn't a Veyron - Yeah... right.
We finally landed in Bologna and after Anthony's butchering of the Italian language, we managed to source a taxi to a Hotel which was barely 500m away from the Lamborghini factory in Sant'Agata.
This small country town is covered in Lamborghini posters and you could tell the town is proud of its heritage, as it should be. Despite what some say, Audi's ownership of Lamborghini is the best thing that has happened to the company.
It still has that Italian soul and passion, but now it comes with German reliability. Utopia does exist.
This might be the best job in the world, but it does come with a fair degree of risk. There is a certain mind set that you have to be in before you can drive a supercar, regardless of what you've read, you can't just get in one and drive away.
You have to set your senses to overboost, you are going to drive a car that can out accelerate pretty much anything else on the road and if you're going to drive it that way, you better be prepared for the sheer ferocity.
We woke up around 7am, packed our bags into the Hotel manager's car, which hadn't been washed since 1987, and drove down the road to Lamborghini headquarters, literally 500m away.
It's hard to explain the feeling of entering a place where dreams come true, it really does give you goosebumps. The gigantic Lamborghini sign sat above the gates that opened the path to our cars. If I was to imagine my entrance into heaven, this would be it.
I could see them as we entered, an Arancio Borealis (orange to you) Gallardo Superleggera and a Grigio Thalasso (metallic grey) Gallardo Spyder, sitting there, waiting for pilots.
We went inside to introduce ourselves, I am not sure what Lamborghini was expecting, perhaps a Steve Irwin look alike or Crocodile Dundee, but here we were, from Sydney, Melbourne, Brisbane and even all the way from Perth, Australia had arrived at Lamborghini.
The forms were signed and kangaroo toys were swapped for car keys. As we made our way over to the two cars, there was already a problem. Anthony had made himself comfortable in the Superleggera! He didn't care that Paul and I were going to do the video and reviews, he didn't care that he'd spent the last 24hrs in a Veyron – The Superleggera had already corrupted his soul.
Thankfully his quest to speak even more butchered Italian led him out of the car and Paul climbed aboard.
A Lamborghini test driver came out and went over the ins and outs of the cars and there was not a doubt in his mind, that Lamborghini is number 1, and we couldn't disagree.
I had spent weeks deciding which car I'd rather drive first, the Superleggera or the Spyder, I love them both, but the thought of driving through Italy, topless, was too good to refuse. The Spyder it was.
We drove the cars out as slowly and carefully as possible as numerous times, we saw Lamborghini boss Stephan Winkelmann walking past. The 5km/h drive out of Lamborghini headquarters, beneath the eyes of every single Lamborghini staff, can easily be filed under unforgettable memories.
At last, we pulled out of Lamborghini headquarters and headed into town. I didn't care that it was 10 degrees and overcast, I looked over to Karl and before I even opened my mouth, he said "do it" and the roof opened up for a glorious view of the heavens.
Paul
I started off in the Superleggera and I must admit, it's bloody daunting when instead of a regular seat belt, one is required to assemble a four-point racing harness before setting off for the drive. The interior of the Superlegerra is the definition of automotive erotica. The doors are coated in carbon fibre, while the roof and dashboard are lathered in a superb quality suede.
Open up the taps in any gear, including sixth, and the 5.0-litre V10 begins pulling with absolute ferocity. There isn't a moment to spare as the car begins to pick up pace, hurtling toward the horizon while yelling a noise only an Italian built sports car can make. Even from another car, you can hear the Superleggera working. Like a military Strikefighter on a high speed training run, there is absolutely no effort to deaden the noise from the exterior and that's what I absolutely love about the car.
Alborz
You know a car has the looks, when the people of its own home town stop walking and stare as you drive past.
Men in suits, police officers, kids, grandmothers, it didn't matter, they all pleaded for a photo with the Lambos. We parked the cars on a main road, essentially blocking half the street to do our first photo shoot and had we done this in Sydney, the world might have ended, but in Italy, it was just another day.
Paul
Once we finished up, we headed towards the hills in the old Northern Italian town of Biella. In order to do that, we had to use the fast moving Autostrade to pass Milan. The trip on Italy's tollway gave us the chance to see what the Superleggera and Spyder were like at high speed.
Surprisingly, the Superleggera was very subtle as we followed two 911 Porsches, as they seemed to know where those nasty speed cameras were. Although you could most certainly hear the engine right behind your head, it wasn't deafening, you could still hold a conversation in the car.
One of the issues I had with the Superleggera was usability when it came to the seat belts. The four-point harness took some 30-seconds to assemble and due to the car's height, I had to undo the harness each time we collected a toll ticket, which held up traffic behind us, as we couldn't take off before the seatbelt was assembled again. There was no issue with the Spyder though, featuring a regular seatbelt.
Alborz
While Paul and Tony were stopping traffic just to pay a toll, Karl & I were simply handing over some cash, just like you would in any other car. The Superleggera then, isn't exactly practical - but I don't think they cared!
Paul
After an overnight stay in a lush hotel in Biella arranged by an Italian mate of Anthony's, we headed for the Aosta hills where our video shoot took place. The higher we drove, the more snow we saw. To call the scenery amazing would be the understatement of the year. The Aosta hills gave us a chance to put the Superleggera and Spyder through their paces on a virtual switchback circuit up past the clouds.
Both vehicles were fitted with Lamborghini's E-gear automated manual transmission. The system works – in general terms – by operating a computer controlled automated clutch while the gears are manually selected. The driver controls the gears by paddle-shifters statically attached to the steering column. You can also select an automated mode, which shifts gears much like a regular automatic gearbox.
Driving both cars back to back, it was hard not to sense a difference between the gearbox ferocity and shift times between the two cars. The Superleggera literally felt like a DSG gearbox, shifting gears with ultimate ferocity and speed. The Spyder on the other hand felt much more lax and laid back. By all means, the Spyder gearbox wasn't slow, it just felt slow in comparison to the Superleggera.
With a shift time of a remarkable 40 milliseconds, it makes the E-gear gearbox one of the fastest of this type on the market. When left in the automatic mode, it feels like a regular gearbox, shifts occur as you would expect and it's ready to drop down gears with quick stabs of the throttle. On inclines, the gearbox is programmed to slip the clutch to provide slight motion to creep forward.
Driving the Superleggera at speed is tremendously easy. On approach to the corner, the brakes grab with tremendous force. Turn in is extremely sharp and precise, the steering feels like it's in contact with the road, you feel everything that meets the tyres on the ashphalt.
Blasting along at supercar speeds I would have traded the leather clad steering wheel for the suede version in a heartbeat. Your hands tend to sweat a little in a sustained high velocity run, and leather does not absorb moisture anywhere near as well as suede. The wheel itself though, is perfect size for aggressive driving. Shaved at the bottom, it facilitates for perfect 10-to-3 driving position, along with the perfect space between the paddle-shifter and the steering wheel.
The roads were slightly damp, which made it easier to identify the twin's understeer or oversteer traits. The Superleggera will oversteer well and truly before it considers understeering. Pile the 'leggera into a bend and tap the throttle – the back end then slips out, giving the driver the ultimate controlling edge through throttle input. Around 70% of the power is sent to the rear wheels, while more can be delivered under certain driving conditions.
It's certainly a feeling of power and ultimate control when it comes to the Superleggera. There is never a point where you feel disappointed or underwhelmed with the car's abilities – at least on a public road. There is next to no body roll in a corner and with 295 tyres on the rear, the grip is endless and urges you to keep you foot well into the right pedal.
Open the rear-ended bonnet in the Superleggera and you'll find a 5.0-litre V10 motor which produces 395kW and some 510Nm of torque. Fuel consumption is rated at 17L/100km combined – but expect to see a larger figure when opening the throttle up.
After jumping into the Spyder and tackling the exact same road, it became quite clear that the Spyder was much more of a cruiser, opposed to a track-dedicated weapon. There was a feeling of understeer – amplified by the slightly damp conditions – before it would kick over to oversteer. But, on that same token, it was still an absolutely brilliant drive.
The feeling of winding through 2nd gear with the roof down cannot be compared to anything else in life...it may sound exaggerated, but trust me – the noise is gob-smackingly powerful. If you dare open up the taps in a tunnel, be prepared to have ringing ears, as the audio track is scandalous.
The deep, racecar like rasp is also experienced in the Superleggera, it's a noise that's better sampled from the outside and can be well and truly heard by drivers and passengers of the econo-boxes that are continuously passed.
Under the Spyder's bonnet lives a similar engine to the Superleggera. Only the Spyder produces 382kW and 510Nm of torque. Fuel consumption is the same as the Superleggera at 17L/100km combined.
Both vehicles were fitted with carbon ceramic brakes. To call these things ferocious would be an utter understatement. The brakes bite with tremendous rage and you need to recalibrate your braking foot due to the sensitive pedal pressures.
Accelerating from a standing start at full throttle shifts your body and all organs inside it right into the carbon-fibre clad racing pews fitted to the Superleggera. The feeling is rollercoaster like, then comes the gear change, a neck crunching slam from first gear to second gear has you wanting more and before you know it, you've hit 100km/h – all in 3.8-seconds. It's well and truly the most fun you can have with your clothes on.
The cabins of these two Italian stallions are generally a great place to be. To begin with, the Superleggera is stripped down – remember, it means 'super-light' in Italian – so don't expect to find cruise control, leather seats, CD-player (or even a radio!). The four-point harness is a bit tricky to deal with at times and explaining it to passengers often borders on humorous. But the lack of radio didn't bother us in the slightest, there was always that looming 5.0-litre V10, simply waiting to be unleashed at the drop of your right foot.
With the Spyder, it's a far more elegant proposal. Our test vehicle had a luscious red interior, fit to get the attention of all passersby. It also came with satellite navigation and a killer stereo. The steering wheel was of the suede variety (easily the pick over the leather clad Superleggera version). The Gallardo also features aeroplane style switches to operate the lights, windows and ESP.
Leg room is very impressive, there's even enough room to put small bags behind the seats – so you could even call the Gallardo practical (well...that's the way I'd sell it to the financial controller anyway).
How much are they worth? I thought you would never ask! Well, if you want a Superleggera in your driveway (with no options) you will need to withdraw $489,900. Our Superleggera test vehicle had a few options fitted, these included:
Black carbon ceramic brakes (front and rear) - $37,698; lifting system (for the suspension) - $7,854; luggage net behind the seats - $1,636; carbon-fibre rear spoiler - $14,137; anti-theft system – $1,728 and interior with carbon-fibre - $9,425. The options pushed our vehicle's price up to $562,378 and frankly, that's not unsusal in the supercar class.
If you'd rather drive the Gallardo Spyder, be prepared to part with $485,225. The Spyder was also fitted with a few options, including:
Callisto rims - $8,558; branding package - $2,296; carbon ceramic brakes with black callipers - $37,698; travel package - $1,636; navigation system - $6,676; electric and heated seats - $9,310; steering wheel in perforated leather - $2,883; lifting system - $8,207; windscreen frame in body colour - $808; badge for wheels - $608; anti theft system - $1,728; white side indicators - $690; rear view camera - $6,676; onboard computer - $1,284 and Bluetooth compatibility - $990. The options bumped the price up to nearly $574,382.
Returning these two stunning machines was an end to an epic high. Handing back the razor shaped key was hard to do. From here on in I have so much more respect for Lamborghini, they're no longer an expensive car brand in my mind – they offer machinery that simply blows the mind in every way imaginable.
When it comes to these two absolutely stunning machines, taking a pick depends entirely on your preference – and not sexual preference, as suggested by some. If I was paying, I'd have a Superleggera (in that orange colour) sitting in my carport right away. I'd bet money on the fact that Alborz would probably say otherwise though and pick the Spyder!
Alborz
Actually, and it hurts to admit this, but I agree with Paul. While I had originally thought I'd fall in love with the Spyder, the drive in the Superleggera had changed my mind, yes, I love convertibles and yes I love the lifestyle approach, but, how can you say no to a car which exceeds your expectations in every way imaginable?
We all sat down and agreed that when it comes to buying our company cars, a Superleggera is a must. The noise and the entire Superleggera experience had us hooked. In our opinion, it's the best looking car on the road and nothing (bar the LP 560-4) that will be released in the near future will make us think otherwise. It drives like a supercar, it handles like a supercar and it looks like a supercar – what more could you possibly want?
2008 Lamborghini Gallardo Superleggera & Spyder Review