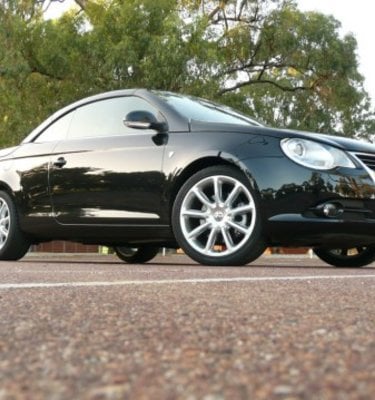 2008 Volkswagen Eos petrol and diesel review
2008 Volkswagen Eos petrol and diesel review and road test
Models tested: 2008 Volkswagen Eos TFSI and TDI
Good looker roof up or down, rigid body, excellent performance, build quality, versatility
Boot space cramped, which one to pick?
CarAdvice rating:
- by: Alborz Fallah & Karl Peskett
When we road test a new car the manufacturer hands over the keys for a week and usually says have fun (or in the case of the Bugatti Veyron, they send a guy with the car).
But it's not very often that I spend a week in a car and don't want to give it back, there are exceptions of course, like the Lamborghini Gallardo Superleggera, the Aston Martin V8 Vantage roadster and even the pocket-rocket Peugeot 207 GTi, but on the whole, it takes a lot to impress me.
Volkswagen had booked me into the 2.0-litre petrol turbo EOS and I was, let's be honest, rather excited. Unlike the majority of old-school motoring journos that have about as much hair as they do personality, I fit in the target-market for the EOS and I happen to absolutely adore convertibles.
Unfortunately, I opened my mouth and told one of my good friends about the EOS in advance, which led to lots of annoying conversations.
"Do you know it has a sunroof and a folding roof?" "What colour are you getting? Is it the petrol or the diesel? Can you pick me up from work?" Ah, the joys of being an automotive journalist.
He was right of course, it really is a convertible with a sunroof and if that's not the best idea since chocolate and peanut butter got together, I don't know what is. Volkswagen call it a CSC-roof (convertible, sliding and coupe roof).
If a sunroof in a convertible sounds a like a dumb idea, then let me explain. I was recently driving around in SAAB 9-3 convertible and just because I had a convertible that week, it was either extremely sunny, or raining just enough to force the roof on, so it was practically useless.
When I had the EOS, the weather was pretty much the same, only that in both circumstances I left the sunroof open and still had a bit of that convertible lifestyle. So its a brilliant idea.
I can write a whole article on the roof itself, but it's easier if I just show you how it works:
It takes about 25 seconds to open or close the roof and the mechanism has some nifty features built in, for example the parking sensors make sure there is nothing behind the car before activating the roof.
When the top is in the boot there is about 205 litres of boot space which isn't all that much, but it's not like you're going to move houses with an EOS. When the roof is closed that figure climbs to 380 litres which is more than adequate for the weekend shopping.
The instrument cluster looks just like any other Volkswagen, near identical centre console and dash board. It really is starting to age, but you wouldn't notice it unless you own another VW.
Before I go any further, I am going to come out and make a big bold claim: The Volkswagen EOS is the best convertible for under $60,000. I actually have to go out of my way to find faults with the car and that's not something I do often.
My 2.0-litre turbo version came in potent black with a gorgeous red interior that turned heads where ever it went. I am happy to go as far as to say that the EOS is one of the best cars I've ever driven, when it comes to driver satisfaction.
With 147kW and 280Nm of torque on tap from the tiny four-cylinder GTi-sourced engine, the EOS is no turtle, it will go from 0-100km/h in just under 8 seconds. Not that you'll need to do that very often, the car is so relaxing that I found myself cruising well below the speed limit on many occasions.
Perhaps the only issue is the need for 98 RON fuel, but the smile on your face will make up for the extra 10cents per litre. Besides, it only uses 8.2L of fuel per 100km, not exactly a drinker.
When it comes to driving and handling, the EOS behaves similarly to the Golf GTi, well composed but with a hint of understeer around hard bends. It grips to the road quite well thank to its massive 17 x 7.5" wheels with 235/45 R17 tyres.
It behaves like the Golf GTi because its front axle is based on the Golf's McPherson-strut system while the rear axle is based on the Passat's four link suspension system - it makes for one awesome handling convertible.
The EOS comes to a stop thanks to its front 312 millimetres ventilated brakes combined with 286 millimetres on the rear. Like most Volkswagens, the Eos comes standard with the Electronic Stabilisation Program (ESP) and Brake Assist.
Standard equipment is not lacking either, everything from front and side airbags, rear parking sensors to an 8 speaker stereo system comes standard. If you want to spend the extra cash you can option it out with 18" alloys, Bi-Xenon headlights, satellite navigation and even wood inserts.
Speaking of safety, the EOS deploys its side airbags from the front seats themselves, while a roll bar shoots up in just 0.25 seconds after the vehicle detects a possible roll. Have a look at this video:
The big question for EOS buyers is whether or not they should go diesel. The diesel is cheaper to buy and run as it uses less fuel, has less power but more torque (slower to 100km/h) but its also more noisy.
My advice? Whilst I love diesel cars and they make enormous sense in this day and age, I can't get over the GTi engine in the EOS, it works wonders! Alas you can read more about the diesel in Karl's review on the next page.
It's a lot easier to criticise a car than to praise it. Many readers generally feel that a praise is unworthy while criticism is instantly taken to heart, so with that in mind I will make it pretty obvious, if you're after a convertible, go out to your nearest Volkswagen dealer and put your order in, because the EOS is an absolute bargain.
Karl
The conversation with the service station attendant went something like this:
"Pump number 7 thanks mate."
"You sure?"
"Yep. The black convertible."
"Um…okay…but…"
"Yes, the black Volkswagen."
His eyes said it all. The incredulous look on his face, wondering if I'd filled an expensive cabriolet with the wrong fuel.
"So that thing's a diesel?!?"
"Sure is."
You'd think that a diesel in a convertible would be a bit of a quandary. I mean, with the top down, who wants to listen to the rattling and clattering going on under the bonnet. Surely a smooth petrol motor with a turbo whistle and pop would be so much better.
Well, think again. The test car that VW had lined up for us in Perth was also black, had a VW Individiual package (more on that later) and was sporting a 2-litre turbo diesel and DSG.
Previously, I've stated that the DSG would be better suited to a torquier motor. And so it proved with the TDI Eos. This is actually the perfect transmission for this motor. Changes are seamless, and shunt free, and setting off from a set of lights is no bother.
The motor doesn't labour, or change up too early. It's brilliant. In fact, due to the low down torque, the S (for Sports) setting is made redundant. It even downshifts before you get to a corner. What more could you ask for?
Then there's the motor itself. Quiet, and smooth, you'd be hard pressed to pick it as a diesel, except for outside the car, or under heavy acceleration. It has a strong urge from 2500rpm-4500rpm, and if it wasn't for the transmission upshifting, it feels like it would keep revving – an unusual trait for an oil burner.
The torque surge sometimes comes on so strong that it overcomes the front wheel grip, but the ESP takes care of it quickly. But the real benefit, as we all know, is the fuel economy. Listed at 6-litres/100km, the possibility is open for a 900km run out of a tank. Realistically, you'll be achieving around the 750km mark, which is still darn impressive.
Driving dynamics are little different to the petrol version with excellent grip, and a perfect ride/handling balance from the 18-inch wheels. Steering is also playful with plenty of weight, and a nice sharp turn in.
The steering wheel itself is tailored to suit the Individual package, which adds nearly $7K to the price tag, but features piano black inlays, two tone interior, aluminium sill panels, and specific wheels. You also get embossed logos on the headrests to let you know what you've spent your money on.
It's a great looking package, especially the ivory piping on the seat edges, and the ivory stitching on the wheel.
The other thing the Eos has going for it, is it's rigidity. Scuttle shake is only noticable on the hardest suspension hits, and even then, it's very well contained. It's even better than the Volvo C70 - another folding hard-top.
So, petrol, or diesel? Performance, or economy? Well, we could live with both. Each has its redeeming features, but you won't regret either.
The fact is, the multi-skilled Eos looks good, goes good, handles good. Damn it, the Eos is good.
[gallery=280]
CarAdvice overall rating:
How does it drive:
How does it look:
How does it go:
2008 Volkswagen Eos specifications
Engine: 2.0-litre turbo (diesel, or petrol)
Power: 147kW (TFSI), 103kW (TDI)
Torque: 280Nm (TFSI), 320Nm (TDI)
Top speed: 232km/h (TFSI), 203km/h (TDI)
Safety: ESP, EBA - front air bags - side airbags - curtain airbags - front seatbelt pre-tensioners and load limiters, roll over protection
0-100km/h: 7.8-seconds (TFSI), 10.3-seconds (TDI)
EuroNCAP rating: 5-stars
Turning circle: 11.2m
Fuel tank: 55 litres
Fuel consumption : 8.2 litres/100km (TFSI), 6.0l/100km (TDI)
Fuel type: 98RON premium unleaded/diesel
2008 Volkswagen Eos petrol and diesel review