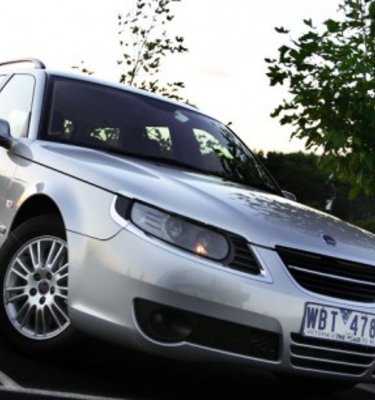 2008 Saab 9-5 BioPower Review
Current Pricing Not Available
2008 Saab 9-5 BioPower (Linear) Estate & Sedan Review
Despite a decent engine the 9-5 is being left behind
Smooth Transmission, Responsive Engine, Comfortable.
Out Dated, Over Priced, Average Driving Dynamics, No E85 fuel.
CarAdvice rating: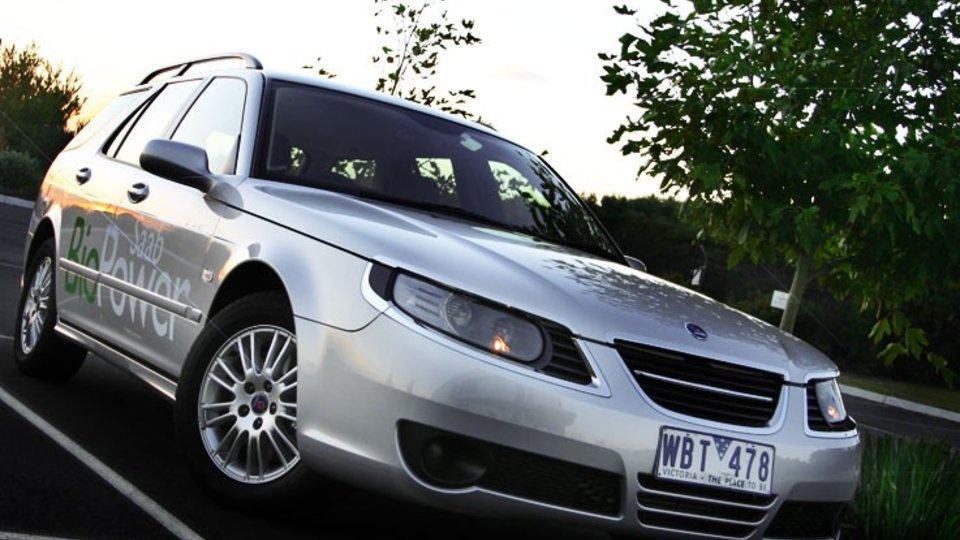 - by Matt Brogan & Alborz Fallah


Matt - I always had a thing for Saab as a kid, most especially our neighbour's black 900 Aero, and as a former aircraft maintenance engineer have even had the pleasure of working on Saab aircraft. The marque has a fine history and I always took Saab as a lovely luxury car that sat in that status of an elite few, a car you'd be proud to own. So would a week with the 9-5 change my mind?
Now many Saab zealots will jump down my throat upon reading this, so please understand I am not being harsh just for the sake of being harsh, I'm simply trying to impress upon you that as someone who reviews dozens of cars a year I believe this vehicle is simply not worth the asking price. I mean option it up a little and you're very quickly over the $80K mark!

Sure, it's comfortable and everything works rather well, especially the sometimes over zealous climate control, but it looks old, is rather basically spec'ed for a premium vehicle and lacks a lot of the character the brand had a decade ago. Frankly, it's boring, uninspiring, and whilst it's hardly likely to ever do anything wrong, you're just missing out on so very much comparatively speaking.

Pages: 1 2 3 4 5 6 7

The 'Fasten Seat Belts' light over the rear view mirror, perhaps borrowed from a Saab Regional Jet sits directly next to an R2D2 swivel light. Material usage is monotone, dated and very average in terms of quality, and with the ignition key and power windows switches (which incidentally operate incredibly slow power windows) taking up the console area, you're left with very little space for additional storage of smaller items.

ESP is activated all too easily, torque steer is quite noticeable, and the steering is heavy and lethargic to respond. It's a bugger to park despite its reasonable turning circle, though the parking sensors (which are also very quiet) do help.

A good comfortable highway cruiser, the 9-5 is a bit of a work out around town and is challenged by fast flowing switch backs and twisty country roads. If only the rest of the mechanicals could match that marvellous engine, and if only the design could catch up, inside and out, the 9-5 would be a worthy competitor.

Alborz - As I arrived at the Saab pickup point in Brisbane's south, an enthusiastic Saab technician handed me the keys and I quickly made my way out to pick up what would surely be, the most embarrassing car I've driven in a very long time.
I wasn't exactly sure what to expect, it's one thing to drive a Toyota Prius, but it's another kettle of fish when you drive a car which calls itself "BioPower".

At the very least, it sounds good. "How do you do? I drive a Saab 9-5...BioPower!" Yes it definitely sounds good. But only 3 minutes had passed and I was already being questioned by other motorists.

"Can you put vegetable oil in that thing? I saw that on TV" - "No sir, it actually runs mostly on Ethanol"
*large man in a Hummer H3* "Are those stickers a joke?" - "No sir, it actually.... forget it."
Thankfully, you can buy this car without the BioPower stickers and it will look and feel like any other Saab 9-5, just with a small BioPower badge on the boot.
Sitting inside the 9-5 is somewhat disappointing, there is nothing to make you go "wow". It's just... plain. It's one of those, "here is an interior" interiors. As Matt said, the switchgear and the whole set up looks rather outdated and you have to pinch yourself to remember it costs 60k+.
My half-a-tank of E85 ran out in two days and I was left to standard fuel. I didn't give up on E85 easily though, I called up BP, Shell and Caltex and asked each where/if I can buy E85 fuel (Brisbane), none gave me a positive response.
Apparently there are one or two stations in Melbourne and Sydney which stock the fuel, but none in Brisbane. 95 RON fuel it was.
I picked up Paul from Brisbane airport and drove down to Anthony's Gold Coast based house to begin recording our voice overs for the Veyron and Lamborghini videos.
On my way home that night, I put in $25 worth of fuel, which equated to about 17L of 95 RON fuel. After my 93km journey home, the refill fuel now warning was back again!
No doubt the press car was running extremely rich on 95 RON fuel, but it goes to show a real world test of the car's fuel economy on standard fuel.
However I don't give up on cars that easily, I stayed positive, so what if the fuel economy isn't that great, what about the drive? Well, that ain't so great either.

The brake system can convince you that you're about to have an accident, than at the very last second, the car simply stops. Not exactly fun to drive. As for the handling and power? The few hundred kilometres that I did with E85 fuel were terrific, fast acceleration from a standstill and in-gear, but as soon as 95 RON fuel went in, the performance went down the drain.
Handling on the other hand, was anything but fun. The tiny 16" wheels do nothing to help the constant body roll from one corner to another, this is by no means a driver's car.
Here is a short list of problems with 9-5 BioPower, it puts out more pollution than it's diesel variants, it uses more fuel, it's a pain to find the E85 fuel required, it handles like a beached whale, the braking performance will give you a heart condition, it's too expensive for what you get and the interior and exterior are both outdated.
CarAdvice overall rating:
How does it drive:
How does it look:
How does it go:

Engine: 2.3 litre turbo charged in-line four cylinder petrol
Power: 154kW @ 5500rpm
Torque: 280Nm @ 2000 - 4300rpm
Transmission: Sentronic Five Speed Automatic
0-100km/h: 9.5 seconds (Claimed)
Top speed: 225km/h
Safety:
NCAP Rating: N/A
Turning Circle: 11.3 metres
Fuel Tank: 75 litres
Fuel Consumption: 10.4 litres / 100km (Combined)
Fuel Type: E85 (or 95RON Petrol)
Weight: 1589kg (Tare)
Towing Capacity: 1800kg (Braked)
Wheel Size: 16" x 6.5J (Alloy)