The Dakar rally has been running since the early 80s and although it's widely known in Europe and Africa, Australians have never really fell in love with the event like we have with Formula 1 and the WRC.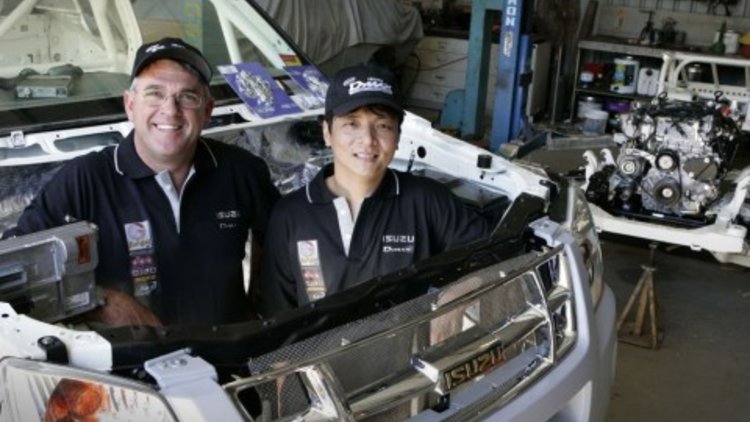 Trying to change that is a two-car entry by an Australian team chasing the greatest prize in offroad racing.
Led by Bruce Garland (five time winner of the Australian Safari and an contestant of the 1998 Dakar rally) and his Sydney-based team, the Aussie entry is currently modifying two Isuzu D-Max 4WD utes (better known here as the Holden Rodeo) to take on South America's tough terrain (moved to South America due to potential terrorist threats).
Their 3.0-litre turbo-diesel D-Max will be far from stock-standard before it reaches competition level. The Garland team is hoping for 144kW and 432Nm of torque (120kW - 360Nm stock).
Joining Garland and his long-time navigator Harry Suzuki for car number two will be experienced Swedish rally duo, Pelle Wallentheim and Olle Ohlsson. Although the cars are prepared and managed in Australia, the Swedes will run under their own name (Tubus Racing).
Before getting to South America in January, the team plans to contest multiple events including the Australian Safari (WA, August) and at least one international rally.
"It's six weeks out of your life, so you've got to be with people you know and trust. We've got the Garland Rally Team back together, plus we have Pelle and Olle involved. They were the catalyst to get this all happening and we share the same focus - but we'll have some fun too!" says Garland
The team is factory backed by Isuzu Thailand and Isuzu Japan until Dakar 2010.
SBS will be covering the event starting from the 3rd to the 18th of January. The new course will cover over 9000 km with an amazing 6000km loop between Buenos Aires, Valparaiso then back to Buenos Aires.