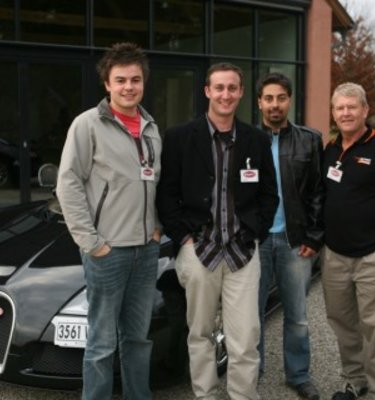 CarAdvice.com.au - Full Throttle in Europe
$
109,150
–
$
129,800
Dealer
CarAdvice.com.au - Full Throttle in Europe
CarAdvice has returned from an epic one week journey in Europe, where our three motoring journalists – Anthony Crawford, Paul Maric and Alborz Fallah, joined by cinematographer Karl Peskett – drove an exclusive selection of the hottest, fastest and most expensive supercars on the market.
During our stay in France, the CarAdvice team had access to the Bugatti Veyron for two full days – the first Australian media outlet to be given such a rare privilege. Aside from driving the world's fastest car – CarAdvice also toured the astonishing facility where these engineering masterpieces are built. While at Bugatti, CarAdvice also released the first glimpse of the yet-to-be-released Bugatti Veyron Hermes for the worldwide motoring public.
Onward to Italy where CarAdvice was thrown the keys to two of Lamborghini's hottest cars – the Lamborghini Gallardo Superleggera and the Lamborghini Gallardo Spyder. The two day drive through the northern Italian Alps and ancient cities such as Milan, Bielle and Aosta allowed the CarAdvice journalists to really get to know these exotic siblings.
The final destination – Gaydon, England – saw CarAdvice take hold of yet another Australian first, as we were given exclusive access to the stunning Aston Martin DBS for the day. The drive and video shoot was conducted around Aston Martin's facility in Gaydon and allowed the CarAdvice team to get intimate with the DBS.
This one week journey titled "Full Throttle in Europe" was a milestone for CarAdvice and is a sign of great things to come for the Australian motoring website.
To see the full coverage of the event, please visit the following link:
CarAdvice.com.au - Full Throttle in Europe