When the LRX cross-coupe concept made its global debut at the Detroit Motor Show this year it was met with almost celebrity applause signaling a new path for Land Rover and their image as a 'big' car company.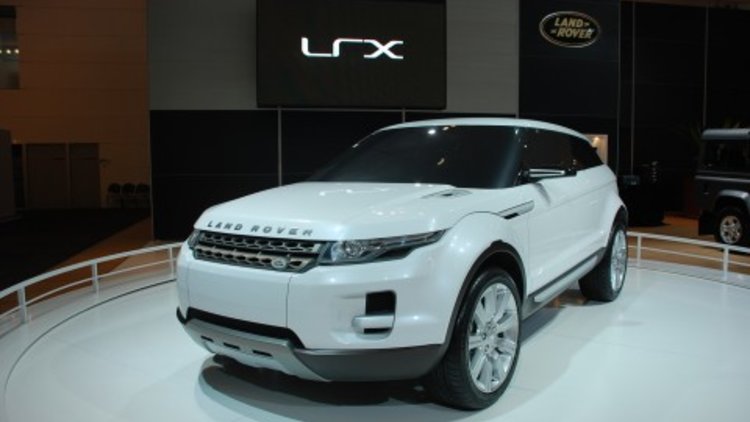 Smaller and lighter than current models the LRX still shows signs of its' heritage with such signature external design features such as the clamshell bonnet, floating roof and wheels-at-each-corner stance being retained.
Not only is the LRX a reduction in scale from traditional Landys, it's also a big step down in terms of environmental impact with many fuel and emission reduction targets met paving the way forward for a company determined to stake its place in the environmental savvy future.
The concept vehicle includes 20-inch alloys, a luxuriously (and futuristic) interior and utilises recycled materials is many interior components including the roof lining and door inserts which are made from recycled plastic bottles and fibres.
The carpet too comes from sustainable sources and the leather used on the upholstery is vegetable-tanned for easier recycling. Side and roof windows are made from ultra light weight polycarbonate in a bid to keep weight, and thus fuel consumption, down as far as possible.
Younger buyers and women are the primary target demographic of the LRX which is a move away from Land Rover's traditional audience in what's seen as a broadening of their horizon.
Land Rover advanced designs director Julian Thomson hints the LRX , or a vehicle closely based on it is destined for production in three to five years.
He said the vehicle would retain traditional Land Rover strengths while reaching for new customers.
"The underlying message is wherever the car competes, it should have the best off-road  performance in its segment," he said.
It's a great move and the vibrant, dynamic looks of the new comer are sure to be a hit with trendy, tech savvy SUV buyers wanting something a little sexier than your average tissue box on wheels look of a traditional SUV.
The cabin of the LRX uses exposed seat, instrument panel and roof structures to convey a feeling of space and freedom. Functionally though it loses none of the features expected from Land Rover and even includes such nifty extras such as a power-operated, horizontally split tailgate, removable speakers, multiple iPod docking facilities, and floating / folding rear seats that lay flat for greater luggage flexibility.
As for the all important power plant, the three door, four-seater coupe drives via a (hybrid) combination of a 2.0 litre turbo diesel engine and battery power (stored in a lithium-ion battery charged by a regenerative braking system). Emissions are claimed at 120 grams of CO2 per kilometre. Not bad! This figure actually undercuts the EU's corporate average of 130 g/km proposed for introduction in 2012.
Capable of running on bio-diesel, and combined with the experimental Electric Rear Axle Drive, the LRX could reduce fuel consumption by almost one-third that of similar sized SUVs.
The afore mentioned axle system allows the LRX to run purely on electric power at low speeds which potentially improves off-road ability (through Land Rover's Terrain Response System) because maximum torque is available from standstill.
While it's all very exciting, a production version of LRX is still three years away, and according to Land Rover the fundamental specification - let alone a production green light - is still far from being confirmed.
If production gets the go ahead it will be priced as a premium vehicle with a $40,000 plus price tag likely on the entry level model.
CarAdvice will be bringing you an exclusive interview with Land Rover's Julian Thomson soon.
[gallery=195]