For those who are sick of buying Holden Statesmen and Ford Fairlanes, the Chrysler 300C has proved a very popular hit, as more and more of the beasts hit the road in Australia – its obvious that the last year has been good times for Chrysler in Australia. Having learnt from the 300C, and the Crossfire, Chrysler has decided to bring the Sebring to Australia in mid 2007.
Yes I know, its not as beautiful as the 300c or the Crossfire.
Infact it almost reminds me of a cheap korean car, just look at the back: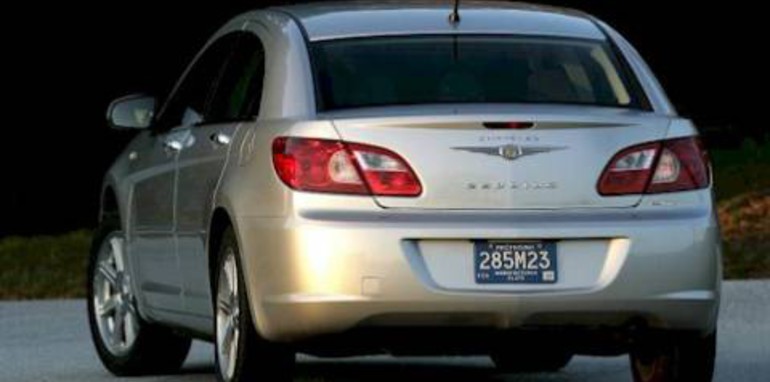 I dont think I would go for one of these, but then again I dont have much respect for American cars. Chrysler still doesn't want to give away the pricing. So we will have to wait till next year to know how much of these ugly cars is going to cost.
"The Chrysler Sebring will sustain the momentum started by the blockbuster hit Chrysler 300C," said Gerry Jenkins, managing director, Chrysler Group Australia.

"Just as the 300C redefined the large-car segment and signalled the return of the great American car, the Chrysler Sebring combines the levels of reliability and durability that mid-size buyers demand with the standout design that sets all Chrysler's apart.

"Sebring's elegant styling provides a clear alternative to European and Japanese competition," he said.
The new Chrysler Sebring will offer a choice of three engines in Australia. Standard is a 2.4-litre petrol engine with dual variable valve timing (VVT). Also available will be a 2.0-litre turbo diesel engine, and at a later stage a 2.7-litre V6 petrol engine. Chrysler is willing to admit that fuel economy is a high-priority for many of today's car buyers, and by doing so, they have promised that the 2007 Chrysler Sebring rivals the best in the mid-size car segment.
Sebring's 2.4-litre engine with dual variable valve timing is mated to a four-speed automatic transaxle and delivers 125 kW and 220 Nm whilst the 2.7-litre V6 engine is coupled with a new six-speed automatic transaxle that comes standard with Auto Stick. The combination delivers excellent performance and fuel efficiency, as well as smooth quiet operation. I have to hand it to Chrysler for not going with another old four-speed auto here. Take notice people, four-speed autos are far gone!
A state-of-the-art 2.0-litre turbo diesel engine mated to a six-speed manual transmission will also be offered on the Chrysler Sebring. The diesel engine will deliver excellent performance and fuel economy, with an estimated 103 kW of power and 310 Nm of torque.
So the engine choices are at least a good start given the current fuel prices, but what else do you actually get with your oddly named car? Unfortunately, Chrysler hasn't released too much info, but some of the cooler things I have noticed include
a cutting-edge information, entertainment and communication navigation audio system
heated/cooled front cupholder for keeping hot beverages hot and cool beverages cool.
Light-Emitting Diode (LED) interior lighting with high-focus white lights in both the front and rear seats (late availability)
Being an American car I wouldn't have expected safety to be up at the top of the agenda but the Sebring doesn't disappoint, the safety package includes:
Electronic Stability Programme (ESP),
advanced multi-stage front air bags,
side-curtain airbags
front-seat-mounted side airbags.
Anti-lock brakes
The Sebring comes with standard 60/40 fold-flat rear seats which make room for more gear, and an available fold-flat passenger seat creates a table-like surface that enhances the versatility of Sebring's interior.