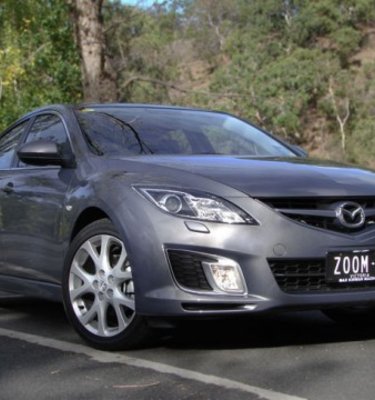 2008 Mazda 6 Luxury Sports Hatch Review
"Sharp, sorted, willing - brilliant"
Model tested:
2008 Mazda 6 Luxury Sports Hatch 2.5l Petrol Automatic - $46,910
Stunning Looks, Drives Brilliantly, Superb Fit & Finish Too Few Interior Changes, Needs More Punch
CarAdvice rating:
- by Matt Brogan
If it's not broken, don't fix it. Sometimes it's a good philosophy to live by and the old Mazda 6 reigned within that sentiment. A great functional car that drove beautifully was well priced and was exceptionally good looking, so it could be argued it didn't need replacing.
Sure, it was starting to look familiar, but it aged well, in fact were it eighteen, it'd still be getting asked for ID. It was a brilliant car, rightfully popular and kind of hard to beat…until now.
The new Mazda 6 is nothing short of stunning. In fact when you consider just how dull and monotone mass produced cars can be it's refreshing to jump in to something that has actually had some thought put in to not only the aesthetic side of things, but the overall functionality of the vehicle as a whole.
But before all that, let's take a look at things. Yes, it's similar in shape to the old one and despite being a little longer (35mm), characteristically it has lost none of the style that made Mazda 6 so well loved.
Sleek, flowing contours, upswept headlights that flow smoothly on to bold curved arches hugging sweet eighteen inch alloys, high angular shoulder line raked upward to the rear and that unmistaken Mazda front end are a recipe for a car that could easily be mistaken for something more sports orientated than a family five door. It's so good looking it's almost unfair to the others.
Inside too you're equally as spoilt. You feel a part of the car, rather than simply sitting in it. The switch gear feels positive, the instrumentation is brilliant and the driver's seating position is just right, low slung and sporty giving a feeling of oneness, not something usually associated with a car of these proportions.
The space is tremendous. You feel relaxed and comfortable, just enough personal space to cope with the otherwise exasperating rigours of big city traffic, your own space to enjoy and feel relaxed – something I don't generally feel from a car and something that I must say was pleasant and hard to part with.
Now I'm well aware looks are subjective, and as such it's time to move along to the more practical side of things. Again, nothing goes wanting here. Every option you'd could conceivably expect for the price tag has been included and to go one step further, draws no complaints in terms of its' practicality or functionality.
What I mean to say here is - it works. Simply, as you'd expect, with no fuss and without needing a degree in thermo-nuclear physics to operate. All the controls are easily reached, simple to understand and operate and have just a touch of class to their appearance.
The line-up of included standard features of the Luxury Sport is not that out of the ordinary for a car of this standing, though it's still enough to impress when you consider the price tag.
Leather Trimmed Seats with Memory and Heaters up front, Fog Lamps that are actually shaped to the bumper instead of looking like twenty buck add-ons from Kmart, Rear Spoiler and Sports Grille to lend a touch of Zoom Zoom to the already athletic outline.
Xenon Headlamps for clear as day night driving, Dual Zone Climate that is quiet and very effective, Paddle Shift Activematic Gearbox that's smooth and always poised ready for you next move, Front and Side Airbags, Bose® 240 watt six stack CD audio system with steering wheel controls and Blackout style instrument cluster lit in Mazda's trademark Blue and Red.
Like I said, it's a good deal. It makes you feel that you've spent your money wisely and returns something few other cars can for the price – a grin. But still, if it drives like you're trying to herd cats then what's the point.
Fortunately the new 6 has lost none of its credibility here. Based on the same underpinnings as the Mondeo you know the force is strong with this one. It's flat, settled, secure and holds the road brilliantly – almost better than it should. I'd stop short of saying nimble but it's certainly capable and sorted.
It rides well too, is comfortable, a lot quieter than the previous 6 and swallows all but the largest of troughs with utter confidence. The suspension is a pleasant blend of handling and comfort that too many manufacturers seem to struggle in achieving.
Braking is strong, progressive and comes with the usual run of abbreviations to make certain you've got some technology on-board. ABS, EBA, EBD – three things you'd almost expect as standard of any car these days.
So it handles, it stops and it's a comfy ride… but does it go? Well, if by go you mean hammer, then no. But hey, it's a family car and what it manages to do with the rather modest power figures is actually quite clever.
Motivated by an all new 2.5 litre four-cylinder petrol engine managing a semi respectable 125kW and 226Nm the 6's performance, though hardly likely to tear a hole in the space-time continuum, is nonetheless capable, sinuous and free-revving thanks to precision tuned VVT.
The engine sounds spirited and healthy, no NVH up top and no messy struggling in the lower reaches. It works in perfect harmony with the Activematic five speed auto to keep things moving with silky fluidity and thanks to the little paddle shift controls behind the steering wheel, can motivate things a little more hurriedly when required.
There's just a little point I'd like to raise while on the topic of paddle shifts, and whilst this isn't a bad set up, it could have been better. For a start they're made of plastic, and the clacky plastic noise at each up shift is a let down.
The paddles move with the wheel instead of being fixed (you don't and shouldn't change gears mid-corner) and have thumb selectors for the downshift function, which if you are small of hand require some reach back to activate. But I'm sure for those who like the gimmick, they'll appeal and admittedly, they do look cool.
Aside from that my only other qualms were the cheapish glove box lid and the "zoom zoom zoom" chime of the three notes from the Mazda jingle each time you stick the key in (I hope this can be switched off).
Other than the clacky plastic and tacky serenade, there's very little to pick on, and when all is said and done if that's the only things I could find fault with in a car then it's got the tick.
The fuel efficiency side of things was very hard to gauge without bias. The motor was so fresh in our test car it would have been unfair to use it to determine any true-to-life figures, but ADR tests claim 8.8l / 100km. For the record, our test car averaged 11.0. It's not bad, and with a few more k's on the clock is sure only to improve.
The new Mazda 6 is a great deal for the money, an enjoyable drive and packed with features. It's safe, good looking and comes with enough toys to keep you happy. Zoom Zoom!
2008 Mazda 6 Review
CarAdvice overall rating:
How does it drive:
How does it look:
How does it go:
• Engine: 2.5 litre four-cylinder petrol
• Power: 125 kW @ 6000 rpm
• Torque: 226 Nm @ 4000 rpm
• Top Speed: 207 km/h (claimed)
• 0-100km/h: N/A
• Drive: Front Wheel Drive
• Transmission: Five Speed Activematic (auto)
• Turning Circle: 11.4 metres
• Emission Rating: Euro IV
• Fuel Capacity: 64 litres
• Fuel Consumption: 8.8l / 100km (combined average)
• Fuel Type: 98 octane PULP
• Towing Capacity: 1,500 kg (braked)
• Warranty: 3 years / Unlimited kilometre
• Weight: 1,513 kg (Tare)