After months of prowling Australian roads under a variety of disguises Ford's FG Falcon makes its debut at the Melbourne Motor Show.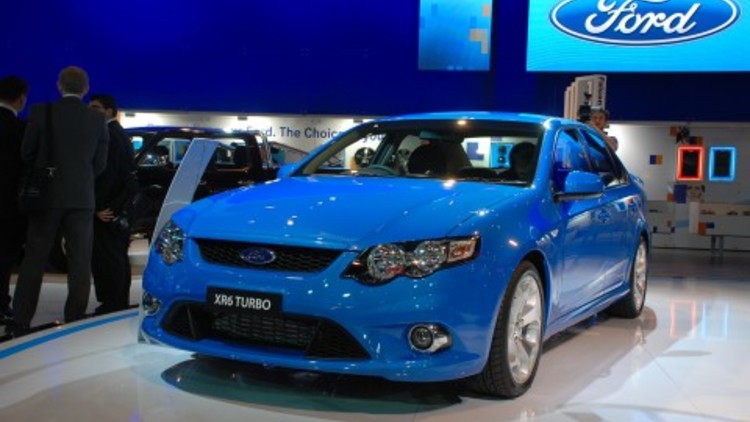 Ford's new Australian boss Bill Osborne says the FG range is 90 per cent new, with revisions to the engines, transmission, front suspension, body styling and interior.
Standard safety equipment on all petrol-engined Falcon sedans will include driver and front passenger airbags, front side airbags, driver and front passenger seat belt reminder, electronic stability control, traction control and ABS with brake assist.
Side curtain airbags are standard on premium sedan Falcons and optional on other sedan models.
LPG engined Falcons miss out on stability and traction control because the electronic systems can't be coordinated with the LPG system.
The 4.0-litre inline six-cylinder engine now makes 195kW, the turbo six has 270kW and the 5.4-litre V8 has 290kW. The gas-engined version, a favourite with fleets and governments remains at 156kW.
A US-designed, French-built five-speed automatic replaces the Australian-made four-speed on all but LPG-engined models. The German ZF 6HP26 six-speed auto remains on high series models.
Fuel consumption for the non-turbo six with the six-speed ZF automatic is 10.1 litres per 100 km, better than a Holden Commodore V6's figure of 10.9 l/100km. But this was also true of the BF and wasn't enough to save Falcon from disastrous sales of 34,000 last year. Will a new look do the trick for the Falcon?
New titles are part of the makeover. You'll look in vain for Fairmont and Fairmont Ghia models on the Ford stand. Those long-running names have been replaced by G6 and G6E.
The Melbourne Motor Show opens to the public at 5pm on February 29 and runs until March 10. If you've been to the show and seen the FG for yourself let us know what you think.
Melbourne Motor Show: Ford