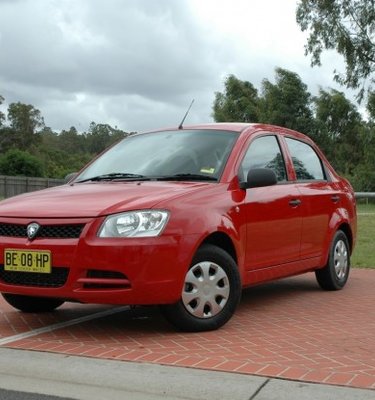 When it comes to getting from A to B on a tight budget, there are plenty of choices. You can catch public transport, buy a used car, buy a bike/scooter or buy a really cheap brand new car with a warranty.
If you're looking for a reasonably good second-hand car, you'd be paying around the $10,000 to $15,000 mark. That means a car that has up-to-date safety technology and is in good enough condition to last a few more years. But what if you could buy a brand new car for around the same price?
The Proton S16 is the second cheapest new car you can currently buy in Australia (after the base model Suzuki Alto). It starts from $11,990 (that's not a typo) and offers all the benefits of a new car, such as warranty, first ownership and reliability.
So then, given how cheap it is, how does it stack up against quality used cars? I am not talking about 10-year-old Falcons and Commodores that have been run down and guzzle up fuel, I am talking about second-hand cars like a three to five-year old Toyota Corolla or Mazda3, etc.
Going by the price of second-hand Corollas and Mazda3s from 2007-8, you can find yourself in a current generation Toyota Corolla Ascent sedan manual from around $12,000-$14,000- which is a pretty good deal and also happens to be the same price as a new Proton S16 range. The cheapest Mazda3 (which is the previous generation) from the same era is about $14,000 and that's a manual. So the best bet for comparison here is a second-hand Corolla.
So why would you buy a new Proton S16 when you can get a second-hand Corolla with under 100,000km for about the same money? Lots of reasons.
For $11,990 you're buying a brand new car, an experience that is unique in itself. You're buying the warranty, road-side assistance, Proton's superior handling characteristics and better fuel economy.
When it was first launched, the entry model Proton S16 was powered by a 1.6-litre engine (pictured above) but these days the entry model's engine size has been decreased to keep its price down. So it's now making use of a 1.3-litre four-cylinder engine with a reasonable 70kW (@ 6000rpm) and 120Nm (@ 4000rpm) of torque. That means it will get from 0-100km/h in around 13 seconds.
In comparison the Toyota Corolla's 1.8-litre engine produces 100kW and 175Nm of torque. 0-100km/h times are 9.7 seconds. It also happens to use 7.3L of fuel per 100km of travel, the S16 does the same distance using 6.0L of fuel.
So when you put the figures side by side, the Corolla comes out on top for performance. What about safety? Toyota's original decision to make side and curtain airbags an option on the entry model Corolla Ascent means that there are now thousands of second-hand current-generation Corollas on the market that only offer two front airbags, which coincidently is still one more than the entry model Proton S16.
If you can find yourself a base model Corolla that belonged to an owner smart enough to tick the safety pack, meaning it came with six airbags, it would be a great buy and a safer choice for a first time car buyer. Expect to pay a little more for that.
2007-2008 Model Corollas and all new S16s lack Electronic Stability Control (ESC), however current new Corollas have this feature as standard. The Malaysians don't even offer ABS as a standard feature and can certainly improve in the safety department overall.
The entry model S16 1.3-litre G comes with a single driver airbag but can be had with two front airbags if you upgrade to the GXR (an extra $2000 and you also get a 1.6-litre engine - well and truly worth it).
From the outside the Proton S16 and the Toyota Corolla both have a rather similar appeal to them. They are both designed primarily to be A to B cars and one could say they are bland but effective. As a result, neither screams sophistication or beauty. The S16 is a good ruler size smaller than the Corolla, measuring in at 4257mm in length compared with the Corolla's 4540mm. Nonetheless, the interior of both cars is good enough to carry four adults comfortably for short to medium journeys.
While we are on the subject, both cars have a relatively lacklustre interior filled with hard plastics and inoffensive colours. The base model S16 gives your arms extra exercise as it lacks power windows front and rear (available on the GXR). The Corolla is one step ahead with power windows for the front but lacking in the rear (was an option as part of the power pack at sale – may be on some second-hand models).
Cruise control is nowhere to be seen on the Malaysian car and the Corolla didn't come standard with it either (but it was available as an option which proved to be a popular choice). The $11,990 S16 comes with just two speakers (in the back) compared with the Corolla's six-speaker system. Both systems can be easily replaced with a much better unit from your local audio/visual store.
When it comes to the drive experience, the Corolla's six-speed manual is smooth and efficient and just as easy to use as the five-speed found in the S16. Both cars are available with a four-speed automatic (S16 auto only available with the 1.6-litre engine) but expect to pay more for that.
Ride and handling is well and truly a battle won by the S16. Don't get me wrong, the Corolla is a good drive and is powered by a punchy engine but when it comes to cornering it does tend to feel a little uneasy when reaching its limit. On the other hand, the S16 is engineered for far more enthusiastic driving. Perhaps it's Proton's ownership of Lotus that has made this be.
You can argue that a three-year old Corolla is still reliable and will continue to do as its told for years to come. An argument with many merits, nonetheless it's no warranty. The S16 comes with a full three-year warranty ( or 100,000km on base model - unlimited kilometres on GX and GXR) , which means that if anything goes wrong in that time you can be certain it will be fixed. So it all comes down to your willingness to take a risk on Toyota's reliability credentials.
Overall both cars are a good choice for a first time car buyer or for a family looking for a practical second car. The Proton S16 provides an opportunity that many people may not otherwise have, that is, buying a new car for a very low price. A second-hand current generation Toyota Corolla is also a strong contender thanks to its superior engine and general engineering characteristics.
If you don't need the extra space and practicality offered by these two sedans, the Suzuki Alto and Nissan Micra are both great contenders for a cheap new car (read a comparison between the two here), with prices starting from $11,790 and $12,990 respectively. They also offer a much better safety package as standard (thanks to side airbags).
Either way, for a minuscule $12,000 (which is cheaper than some option boxes on higher end European luxury cars), you've got a lot of choice!
Relevant reviews: