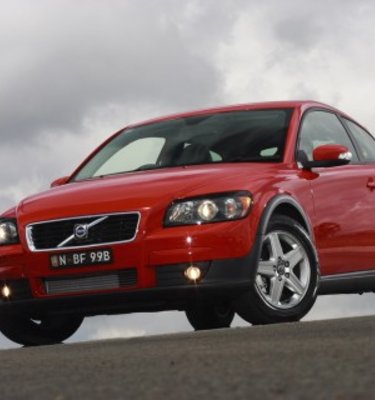 2008 Volvo C30 D5 first steer
2008 Volvo C30 D5 first steer
"Volvo's new diesel powered C30 drives like a hot hatch – and that's with a five speed auto!"
Test car: Volvo C30 D5 with 5-speed adaptive Geartronic
Recommended retail price: $42,450 for the 6-speed manual, $43,950 for the 5-speed Geartronic.
By: Anthony Crawford
You need to sell lots of cars for one particular model to get noticed amongst the fifty or so brands sold in Australia these days. It seemed to take a while, but I'm staring to see C30s on a daily basis - and why wouldn't I.
The smallest Volvo has been a hit with each and every staff writer at Car Advice, whether they had a thing for the badge or not!
It's not just the car's distinctive coupe/hatch body shape, but more its impeccable road manners whether you are seriously into it, or just out for a quiet Sunday drive.
The five-cylinder turbocharged C30 T5 is fast enough in the bends, to run as a photo chase car for Aston Martin's V12 DB9. No joke. You can read about it in our full-blown road test of the car.
You can forget about applying the term oil burner to the C30 D5. That implies a slow old thing that might also save you a few bucks at the bowsers.
The C30 D5 is anything but slow. Powered by a five cylinder, 20-valve turbocharged diesel, producing 132kW and a highly commendable 350Nm of torque from just 1750rpm, acceleration is sports car quick. There's little if any, of that infuriating turbo lag which still affects a large quota of single turbo boosted diesels.
While the five-speed adaptive Geartronic (translation – Volvo automatic with manual shift capability) will have you arriving at the 100km/h mark in 8.4 seconds, the D5 with a six-speed manual box lifts the torque figure to a whopping 400Nm, (in showrooms by April this year) and will fast track that time to just 7.7 seconds.
For the uninitiated, it will be difficult for them to pick this model as a diesel (at least from inside the cabin) but for the small D5 badge at the rear. It's not that the engine is quiet. It's not. Volvo's five cylinder engine produces what I call the "Volvo growl", which lets you know there's a little bit of anger under the bonnet, should you need to make a point.
Pages: 1 2
While it may have plenty of character, it's a remarkably smooth drivetrain, particularly on the highway. I would normally gripe about the fact that six speeds are better than five, but the gear ratios seem well placed and that extra cog may well be superfluous in the D5.
The C30 is a beautifully balanced car and despite its front wheel drive set-up, torque steer is non-existent. Cornering prowess and grip is extraordinary (even in the wet) and inspires a high level of confidence on any road surface. I think its fair to say, the D5 gives little away to its petrol-powered T5 sibling.
Ride quality is another feature of the C30, which deserves high praise. We unleashed our test car down our favourite 11 km twist fest, (rapidly deteriorating due to Sydney's current wet season) and the experience could only be described as a comfortable affair.
There are two strong arguments for diesel power these days, low down torque and fuel economy.
For hilly cities such as Sydney, your best bet is the turbo diesel. Why? Because peak pulling power or torque, kicks in very low in the rev range, which provides a welcomed surge when climbing steep inclines or punting away from the lights.
With small petrol powered cars, peak torque usually arrives much later in the rev range, and only when the engine is singing its little heart out. Not usually a pleasant sound.
You've got to admire cars which are both quick and frugal. The C30 D5 is a member of that club. With a real world consumption figure close to 7.2l/100km (that's more city than highway) the potential range using one tank of diesel is over 800km. Less trips to the petrol station is motivation enough these days.
You sit quite low in the C30, but then that's a hallmark of the Porsche 911. For my money, the driving position is near perfect, with some of the most comfortable sports seats in the business. Volvo also does exceptional leather steering wheels, but then I've said that before.
Cockpit wise, the D5 is reasonably well equipped with electronic climate control, aluminium (yes the real thing) inlays in the doors and centre console, Performance Sound six-speaker audio unit, cruise control, steering wheel controls and 16-inch alloys to name just part of that list.
What you don't get as standard kit but might have expected, is rain-sensing wipers (although its only a $250 option on all models), auto headlights on (not even an option) and rear park assist ($550).
Volvo has also introduced a new entry model in the range called the C30 S, powered by a five cylinder, 2.4 litre 20-valve petrol engine.
With a retail price of $34,450 for the five-speed manual and $35,950 for the Geartronic, it undercuts the C30 LE by $4000. Of course you don't get quite the grade of kit you find in the more expensive models, but all the important stuff is there, including iPod input and Volvo's exhaustive inventory of safety features such as; Emergency Brake Assist (EBA), Airbag, driver and passenger dual stage, Inflatable Curtain (IC), Side Impact Protection System (SIPS), SIPS airbags in front seats, Anti submarining on all seats, Whiplash Protection System (WHIPS) and Stability and Traction Control (STC).
"The C30 D5 is not only more of a good thing, it's on par with BMW's 120d"
2008 Volvo C30 D5 first steer