Current Pricing Not Available
2008 Peugeot 308 first steer
By – Anthony Crawford
Peugeot's newest car, the 308 has just been launched to Australia's motoring media and Car Advice was there to cover it.
It's the model successor to the highly successful, but frumpy, Peugeot 307, which has clocked up over three million sales worldwide.
There's nothing frumpy about the 308. Looking almost identical to the recently launched Peugeot 207, at least from the A-pillar forward, the 308 does away with the 'too tall' profile of the 307, with a lower roof line.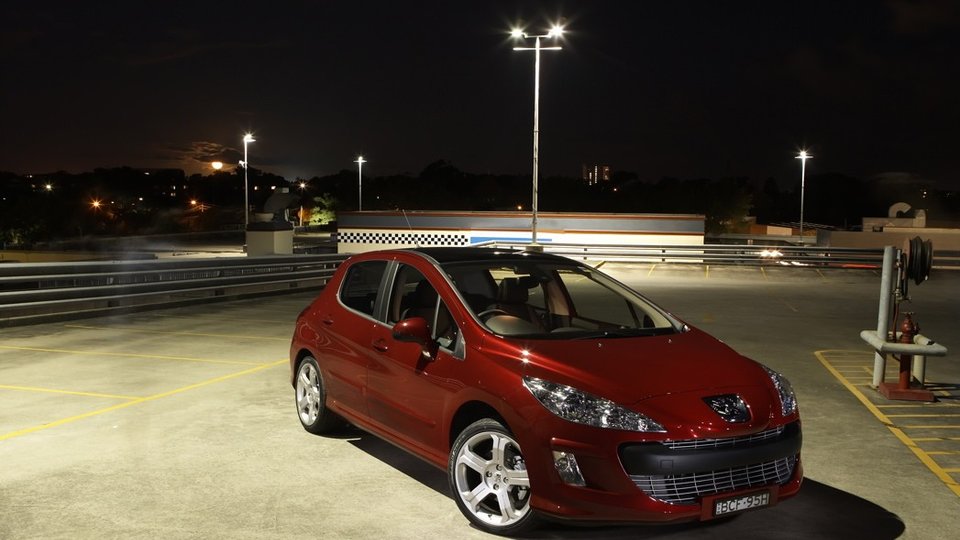 The German press are a critical lot when it comes to new car reviews. That's especially true of Germany's biggest selling Sunday newspaper, Bild am Sonntag. So it's comforting to note, that a jury of racing drivers, automotive journalists and media personalities, voted the 308 "the best compact family car" and awarded it the 2007 Golden Lenkrad (Golden Steering Wheel).
After 229kms in two of the seven 308 variants available in Australia, I know why.
From a twelve car display which looked more like a giant pack of Bobby Brown lipsticks, we grabbed what we thought was the loudest colour in the twelve flavour range, a standout metallic green called Lacerta. Beautiful.
It's obvious; Peugeot has put some real time and effort into selecting a range of fashionable colours that bring out the best in the 308's dynamic V-line shape.
It's a tough choice trying to pick between Peugeot's petrol and diesel cars, as they are both superb engines.
Our Lacerta coloured 308 was the top shelf diesel propelled car, known as the 308 XTE HDi. It's a 2.0 litre, direct injection unit that puts out 100kW and 320Nm of torque at very useable 2000rpm.
Let me say here and now, this is one of the quietest diesel engines in the business. It doesn't seem to matter what speed you are doing, engine noise inside the cabin is remarkably subdued.
Performance is all the more impressive, given the fact it's a six-speed automatic box with 'Tiptronic' (manual shift) function. Gearshifts are silky smooth and barely perceptible at any pace. If there was any downside and I'm stretching here, off the line getaways are adequate rather than quick.
If we thought the diesel got along OK, the 308 XSE Turbo petrol powered with a five-speed manual gearbox, had its advantages.
What Peugeot have always done better than most, is build cars that are fun to drive. Solid performance, with outstanding road holding capability. Its what they do.
I make one exception, the Peugeot 504 Diesel. I was given one of these to use while living in Los Angeles in 1981. It was a 2.2L non-turbo diesel with a massive 43.9kW and a stump pulling 116Nm! That was my first experience in a diesel, and performance, must have been engineered out of that car. I honestly thought I had broken an accelerator cable when I punched the throttle to the floor and nothing happened. Again and again, I repeated the motion and still nothing. I then timed the acceleration response. A full 15 seconds before the engine powered up – if you could call it that.
Now back to far better things. Our 308 were fitted with optional 18-inch wheels shod with a set of low profile 225/40 extra grippy rubber. Traction was outstanding but with a fair degree of bump thump at speed on what was a reasonably decent section of country road.
Peugeot's suspension team must dislike body roll as much as I do, because it is all but dialled out of the 308. We punted the car through corner after corner (and that's with 280kg of human mass aboard) and cornering was flat and confident. That's not surprising given that torsional rigidity is up 10% on the 307 along with a 5mm drop in the centre of gravity.
Accurate and quick response steering is something Peugeot don't need a lesson on either. There are very few carmakers that do it better.
On board the 308 is a recalibrated version of the rack and pinion arrangement from the 307. It's a speed sensitive unit, which is controlled by an electro-hydraulic pump and works a treat.
With the high speeds that the 308 is capable of you expect serious stopping power. Peugeot doesn't disappoint there either. They feel every bit as good as anything I've driven from Germany.
The quality of materials and general finish on the 308 is first class and above what you would expect to find in a model range that commences at $25,990. The soft dash material is a highlight and the switchgear seems well positioned.
One option I do like is the Panoramic glass roof, which extends from front to rear. It gives you and your passengers a sense of wide, open space and will surely be a hit with the kids. It is standard on the XTE model but a $1000 option on the rest of the range.
Load space is more than sufficient for 4 adults while the rear hatch sill is nice and low for easy loading of grocery bags. There are also four luggage hooks and a luggage net, which are all entirely useful.
Safety is also high on Peugeot's agenda. All 308's come with 6 airbags although, on the XSE and XTE versions you can option the steering column airbag as well. Not only that, composite materials and aluminium feature strongly in the 308 which improves overall impact absorption in the event of crash.
ABS, Electronic Brakeforce Distribution and Electronic Brake Assist are standard fitment across the 308 range but Electronic Stability Program (ESP) is $450 option on the base XS models. It's not a lot of money in the scheme of things, but given their focus on occupant and pedestrian safety, it could have been included and used successfully as a global marketing tool.