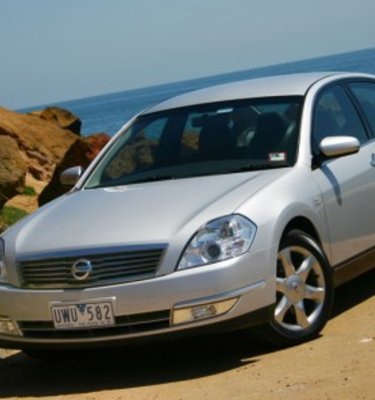 2008 Nissan Maxima ST-L review
2008 Nissan Maxima ST-L review
"You'd be hard pressed to beat the combination of space, options, and price"
Model tested:
2008 Nissan J31 Maxima ST-L Sedan - $34,990
Options available: Metallic Paint $395, Sunroof $2,585.
Gutsy V6, Smooth CVT, Quiet, Affordable
Dated Design, Soft Handling, Weak Stereo
CarAdvice rating:
- by Matt Brogan
The large sedan segment is not quite what it once was. I remember a time when just about every second car on the road was a big family sedan. Times change though, and we all want greater flexibility from our vehicles - fair enough too - but what about those among us who still want a reasonably priced full-sized luxury sedan.
We all seem to be of the impression that owning a sedan like this means a Berlina or Fairmont, a few might even stretch their imagination so far as a 380SX or a Prodigy, but what about the Nissan stable?
The trusty Maxima seems to have been looked over in recent times and whilst it may be getting a bit long in the tooth, that doesn't for a moment mean it isn't still a great option when it comes to choosing a bigger luxury car.
For starters the standard appointments offered and just how well these present for the price really do impress. It's uncomplicated, comfortable and easy. But it's more than that, it looks elegant, it goes well and it's a pleasant ride.
Sure the styling is getting a bit dated, after all the design goes back to 2005, but even with the progress made since then everything is still relevant and offers very little reason to want for something more high-tech when you consider that you can pick one of these up for $35K - new!
So just what do you get for your money? Well, acres of room for a start and it's nice room too. Leather seats, spacious design, simple and ergonomic lay out, just what you need for those long mornings in traffic or the weekend road trip for a few more cases of wine - and if like us that weekend trip turns in to several(ish) cases of wine, then you'll have no problem bringing them all home.
The boot, in the standard Japanese unit of measurement, is three golf bags. It's easy to access, has fold flat 60/40 rear seats and accommodates a weekend's baggage, golf clubs and a few cases of vino with no problem at all.
Inside the cabin it's not too shabby either. The dash, although quite basic, is easy to understand, very practical and super easy to use. The climate control is quiet (though has no condensation sensor) and the seating is comfy and supportive, especially around the shoulder region when many cars tend to lack.
You also get eight way electric seat operation, one touch power windows, remote central locking with panic alarm, four airbags, trip computer, rear centre table, cruise control (steering wheel mounted – not backlit), and pop out magazine holders in the doors.
My only bone of contention was the stereo and the let down it is to the package as a whole. Everything else is just right, again it may be dated, but it's functional and works well – except the stereo. It has no depth, poor clarity, weak reception and at volume is utter rubbish. To top it off it has no steering wheel mounted controls and was thought of before the iPod took off, so you can leave that at home.
But stereos aside – how's it go? To be honest, surprisingly well. The 3.5 litre V6 is shared with the 350Z and although de-tuned to 170kW and 333Nm for Max, you'd hardly notice. It's easy to see why this motor has won Ward's Top Ten Engine award twelve years running.
The big Max gets up well, and the CVT keeps it rolling along very swiftly. It's smooth, promt to respond, and far better than any other CVT box I've driven which takes some doing because ordinarily I'm not a fan.
Power delivery is also very smooth, predictable and incredibly consistent with only a hint of torque steer under hard acceleration which makes trundling around town altogether as pleasurable as can possibly be.
Steering and feedback is on par for the mechanicals utilised and given the car's size is actually quite manoeuvrable. Reversing sensors would have been nice as the rear window line is a little high, but in all I found parking the Max of little consequence.
Braking is quite strong, capable and with thanks to ABS, EBD and EBA is very safe as well. The pedal feel is hardly sporty, as you'd no doubt expect, but is confident enough after a little additional input from your right foot.
Perhaps my only real concern with the Maxima's drive as such was the handling. I know, I know, it's not meant for that, but bear with me. The reason I bring this up is that any sudden change in direction will be met with large amounts of body roll, a tad of a lateral slide, and a big input from the VDC before the straight and narrow is again reached.
It's not pleasant and it's certainly not what I'd have expected before experiencing it first hand so it really is best to leave that VDC switch on - just in case.
Max has a pretty standard suspension recipe, McPherson Strut front / Multi-Link rear but as it's aimed to a luxury audience and the supple ride expected thereof, the handling side has suffered as a result. But, if you're happy to not turn very quickly and love the relaxed leisurely feel of a comfortable ride, especially on the open road, then Max will no doubt suit you.
It may also be your last chance to secure a car with the Maxima name as the Skyline badge will most likely re-appear late this year. For this price Max is a great deal and despite being a little thirstier than claimed (15.0l / 100km urban), is well on target when cruising the highway (10.0l /100km highway).
In all though I must say I like the Maxima a great deal and have enjoyed my week with it, especially the touring side of things. The car represents great value for the money and is so easy to live with day to day that I reckon you'd be hard pressed to beat the combination of space, options, and price in another vehicle.
CarAdvice overall rating:
How does it drive:
How does it look:
How does it go:
• Engine: Nissan VQ35DE 3.5 litre DOHC V6 with VVT
• Power: 170 kW @ 5,600 rpm
• Torque: 333 Nm @ 2,800 rpm
• Drive: Front Wheel Drive
• Transmission: Xtronic six ratio CVT
• 0-100km/h: 8.1 secs (claimed)
• 0-400m: 16.5 secs (claimed)
• Top speed: 225 km/h (claimed - electronically limited)
• Turning circle: 11.4 metres
• Emission rating: Euro IV
• Fuel type: 98 octane PULP
• Fuel Consumption: 10.8 litres / 100 km (combined)
• Towing Capacity: 1,200 kg
• Warranty: 3 years / 100,000 kms
2008 Nissan Maxima ST-L review