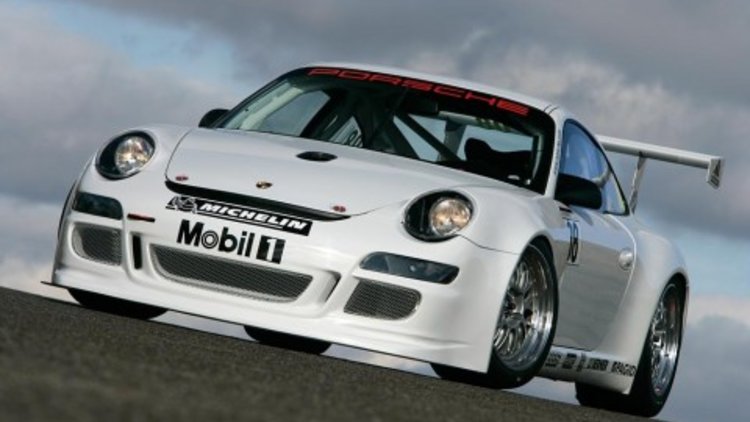 "Porsche unleashes some potent 911 venom"
Porsche may not contest Formula One these days, but it does love to go racing.
With an astonishing 28,000 race victories in various motor racing categories throughout the brand's esteemed history, its no wonder that Porsche remains the most prolific race car manufacturer in the world.
This year alone, they expect to build no less than 330 dedicated race cars for individuals and teams addicted to the thrill of car racing.
These tarmac rockets include; the RS Spyder, LMP2, GT2 spec, GT3-RSR's and of course, the GT3 Cup and GT3 Cup S.
The GT3 Cup S is based on the street legal 911 GT3 RS, but with one major difference. You won't be able to get it registered, It's a purpose built track machine designed to compete in FIA GT3 class.
Other cars in this series include such exotics as the Ascari KZ1-R, Aston Martin DBRS9, Ferrari F430 GT3, Lamborghini Gallardo GT3 and the Lotus Sport Exige GT3.
It's ludicrous how Porsche manage to extract 324kW and 430Nm from a rear mounted 3.6-litre boxer engine. It's the same engine as in those GT3 Cup cars competing in the Porsche Mobile1 Supercup and Carrera Cup New Zealand. Power gains are a result of electronic mapping and a modified exhaust system.
That's where the similarities end though. The extra wide wheel arches on the GT3 Cup S has been lifted from the GT3 RS, which means bigger wheels can be fitted to the car.
The Cup S also benefits from considerably more downforce, as both the front splitter (which is adjustable) and rear spoiler have been modified accordingly.
Suspension components from the awesome GT3 RSR race car have been fitted to the GT3 Cup S and the braking system has been calibrated to handle the slight power increase.
You can go racing in a trick $5000 Kart, but if Porsche power is your thing, then be prepared to write a cheque for 250,000 Euro or around $410,00 Aussie dollars, plus duties. Not much, when you consider the cost of a V8 Supercar these days.
Technical Specifications Porsche GT3 Cup S
Power Unit
Water-cooled six-cylinder boxer; 3,598 cc; stroke 76.4 mm; bore 99.98 mm; max output 440 bhp (324 kW); max torque 430 Nm; max engine speed 8,400 rpm; four-valve technology; dry sump lubrication; two-stage resonance intake distributor; central air intake; electronic MS 3.1 engine management; fuel injection (multi-point, sequential); fuel grade 98 RON premium plus unleaded.
Power Transmission
Six-speed gearbox with sequential jaw-type shift; compressed oil lubrication; oil/water heat exchanger; single-mass flywheel; hydraulic disengagement lever; 5.5-inch three-plate carbon-fibre clutch; limited-slip differential 40/60 %; rear-wheel drive.
Body
Monocoque body made of hot-galvanised steel; aerodynamically optimised front end with front spoiler; doors with side frames made of CFP and plastic wing mirrors; aerodynamically optimised front underfloor; adjustable rear wing; 100-litre safety fuel tank; air jack; welded-in safety cage; bucket-type racing seat (on driver's side only) with flame-resistant seat cover; six-point seat belt adapted for use of the HANS Head and Neck Support; electric fire-extinguishing system
Suspension
Front: McPherson spring strut axle; Sachs gas pressure dampers; double coil springs (main and ancillary spring); front axle arms adjustable for camber; adjustable sword-type anti-roll bar; power steering.
Rear: Multi-arm axle with rigidly mounted axle sub-frame; Sachs gas pressure dampers; double coil springs (main and ancillary spring); rear axle track arm adjustable for camber; rear axle tie-bar reinforced and infinitely adjustable; adjustable sword-type anti-roll bar.
Complete suspension infinitely adjustable (height, camber, track).
Brakes
Brake system with balance bar control.
Front: Single-piece six-piston aluminium fixed callipers;inner-vented, 380 mm in diameter; racing brake pads.
Rear: Single-piece four-piston aluminium fixed callipers; inner-vented, 355 mm in diameter; racing brake pads.
Wheels
Front: Three-piece BBS light-alloy wheels (10.5J x 18); central locking;
Rear: Three-piece BBS light-alloy wheels (12J x 18); central locking;
Electrical System
Motec display with integrated data recording; battery: 12 volt, 50 Ah, 140 Ah alternator.
Weight
Approx 1,170 kg
Anthony Crawford