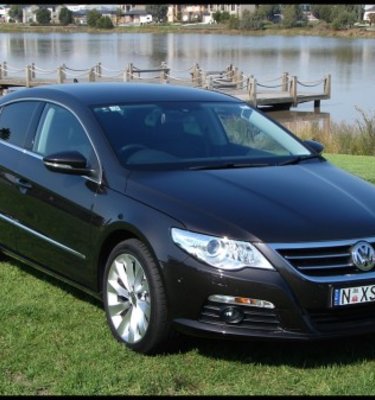 2009 Volkswagen Passat CC Review & Road Test
The best value luxury car on the market bar none.

Model Tested:

2009 Volkswagen Passat CC V6 FSI, 3.6-litre, six-speed DSG, sedan - $65,990 (RRP)
Options:
Metallic paint $1000 (fitted - Mocha Anthracite); Active Climate front seats $500 (fitted); Satellite Navigation $2500 (fitted); rear view camera $600 (fitted); Park Assist $900 (fitted); panoramic glass roof $2000; CD changer $850; iPod connectivity $300; DynAudio 600W premium audio system $2000; adaptive cruise control $2000
CarAdvice Rating:
- by Matt Brogan
You see I'm a bit of a sucker for a gorgeous body, and with its seductive styling, coupe-like proportions, and endearing, effortless charisma the Passat CC certainly boasts a rather striking form.
But when it comes to ticking all the boxes, at least as far as a car is concerned, a sexy body isn't quite enough to push all of my buttons, there's got to be a whole lot of substance there too.
Fortunately for me the Passat CC delivers in spades.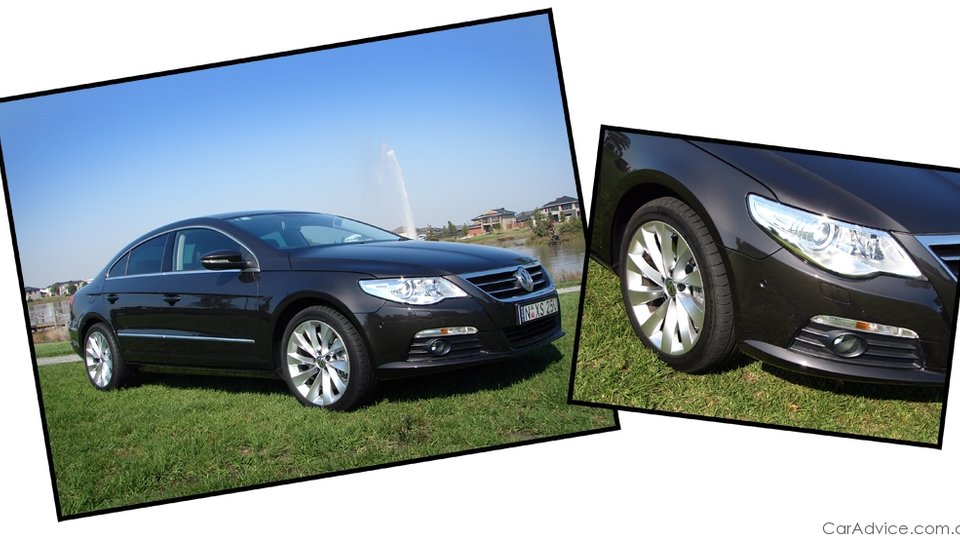 Beyond the flowing lines and balanced proportions though the Passat CC extends its refined character through to every last element of the car, which again makes it such an appealing proposition.
It drives exceptionally well, it's quiet and comfortable inside, offers gargantuan grip levels for a car of this size and offers character building levels of handling while at the same time delivering confident performance and pleasing fuel economy returns.

The cabin is typically Volkswagen. Simple, yet elegant in design and despite its number of buttons and dials remains true to the brand's ethos of being remarkably user-friendly.
Of prominence to what is a fittingly specified cabin for a range-topping model, the RNS510 satellite navigation, stereo and Active Climate front seats do add that extra je ne sais quoi to what is an already comfortable and enjoyable space.
To me these three elements alone lend an extra feeling of refinement and pampering that increase the value of the Passat CC as a luxury proposition immensely, even if they are cost options.
Torque is linear, almost endless and completely usable being drawn across a hefty 2900rpm (from 2400 to 5300) of the rev range to provide 350Nm to all four wheels via Volkswagen's renowned six-speed DSG gearbox.
Paddle shifts are on-hand to induce maximum involvement in your driving though I have to say 'Sport' mode offers very similar levels of enthusiasm matching shift points exceptionally well to a more performance orientated driver's demands.
Road holding is, in a word, remarkable and, given the car's appearance, you could almost be mistaken for wondering just how such a large, luxury vehicle is capable of such rapid cornering.
There's a little in the way of "push" or feedback noticeable from the Haldex clutch under sharp throttle changes, but if you remain smooth, and at a pace more suited to the car's orientation, then this one small downside is negligible. In fact the only other negative I could find was a little wiper noise from the passenger side blade.
From a practicality standpoint it should be noted that the Passat CC is a dedicated four-seater with a rear centre console in place of the middle seat. Fittingly however this makes for a more accommodating and generously proportioned aft end with ample head, hip and leg room for even the tallest of passengers, a feat you would not think possible given the rake of the roof.

The rear VW badge not only acts as a boot handle, something common to most Volkswagens, but also houses the reversing camera which helps keep the car's appearance clean and clear from any unsightly add ons.
It's a great camera too and unlike many rivals, manages to work well regardless of light or weather conditions. The reverse park assistance feature, which the rear camera forms part of, is also a bit of a treat and despite being a bit of a control freak, I was brave enough to give this a go and found it to be spot-on when self-parking. A great feature to show your mates.
The Passat CC offers a five-star EuroNCAP and five-star Australian ANCAP safety rating with a long list of standard safety credentials including with front, side and curtain airbags; active chassis control; electronic stability control, traction control, anti-lock brakes; electronic brake force distribution; and electronic brake assist.

Ratings:

CarAdvice Overall Rating:
How does it Drive:
How does it Look:
How does it Go: